You are here
Newsletter
Enjoy the second shot with Mulderbosch Wine Estate
Wednesday, June 10, 2020 - 15:28


Rain, rain, rain...

Is the way I greet you on this Wednesday and may I say, by far the best rain we've had in 2020 so far!

Even in the toughest of times, there are always answers, one just needs to ask the right questions.

Most of us would not be teeing it up in this cold and wet weather today, so why not take this opportunity and order some wine from a farm I love to visit, Mulderbosch Vineyards!

Enjoy their relaxed, family-friendly tasting destination with comfy cushioned seating and landscaped areas. It is the perfect spot to relax and enjoy the view or play a friendly game of boules. (For now one can only enjoy their lovely wines).

They offer comprehensive tastings from the full range of Mulderbosch Wines and, to complement their wines, they serve a selection of thin-based wood-fired pizzas with a variety of delicious fresh toppings. They also offer free-range beef burgers and charcuterie and cheese boards with fresh bread and Mulderbosch olive oil.

To get a taste of Mulderbosch Wines, order their wines on this wet and wonderful day, either by downloading the order form and emailing it to orders@mulderbosch.co.za or follow this link and order online using the following promo code: STBGOLFCLUB.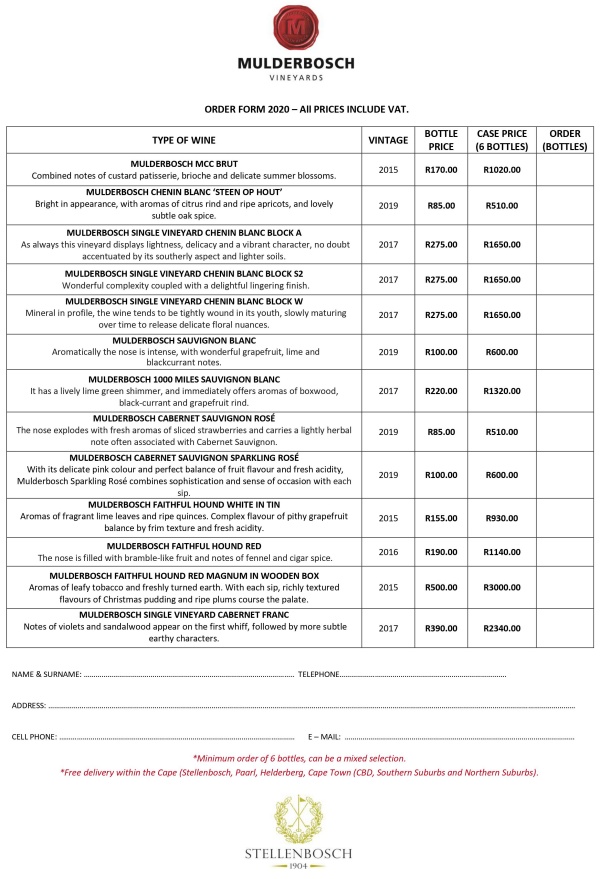 Click to enlarge or to download the order form


I've enjoyed some wonderful times on the farm, enjoying a game of boules and wine with family and friends. On behalf of Stellenbosch GC, I would like to thank Mulderbosch Vineyards for also joining the drive in assisting the vulnerable staff and their families in these times...

Thank you,

Louis

Pages