You are here
Newsletter
We're backing our boys, Justin and Oliver this weekend
Thursday, May 19, 2022 - 09:20



Thursday, May 19, 2022





Time to shine

Indeed, a very special moment for two Stellenbosch GC members as they tee it up in the 103rd PGA Championship at Southern Hills Country Club. Justin Harding and Oliver Bekker are part of the South African fraternity who will be trying their best, to lift the Wanamaker Trophy come this Sunday! Oliver has enjoyed a wonderful start to his season on the DP world tour, with several top 10 finishes and a near win a couple of weeks ago. Best of luck gentlemen – we are all rooting for you!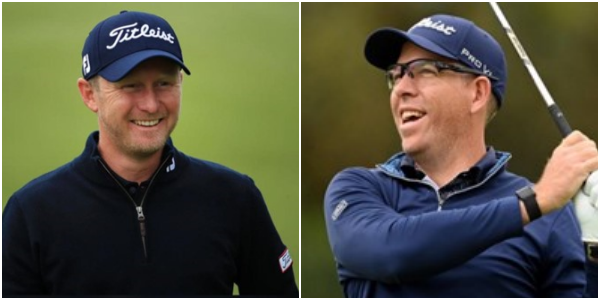 Justin and Oliver, all smiles as they tee it up at the PGA 2022

Keeping it green

Autumn treatments are done and dusted, excuse the pun... and the greens have recovered brilliantly. Well done to Neil and his team, who keeps the course in such a wonderful condition for all of us to enjoy.

During Covid, Golf RSA made a "funny" rule where bunkers did not have to be raked. Some courses even went one further and allowed placing in bunkers. Strange! Sadly, golfers have continued with this culture not to rake bunkers, causing a lot of frustration for their fellow golfers. The best one I often hear, is that it's the "visitors" that don't rake the bunkers, fill their divots, or fix their pitch marks. Sadly, not always true as these photos were taken on Saturday – makes one think?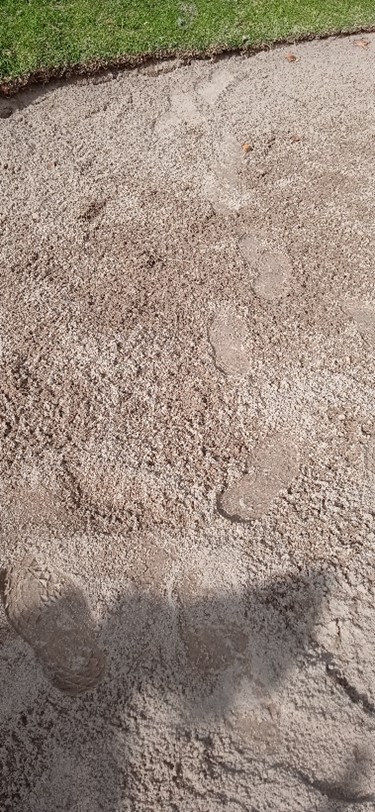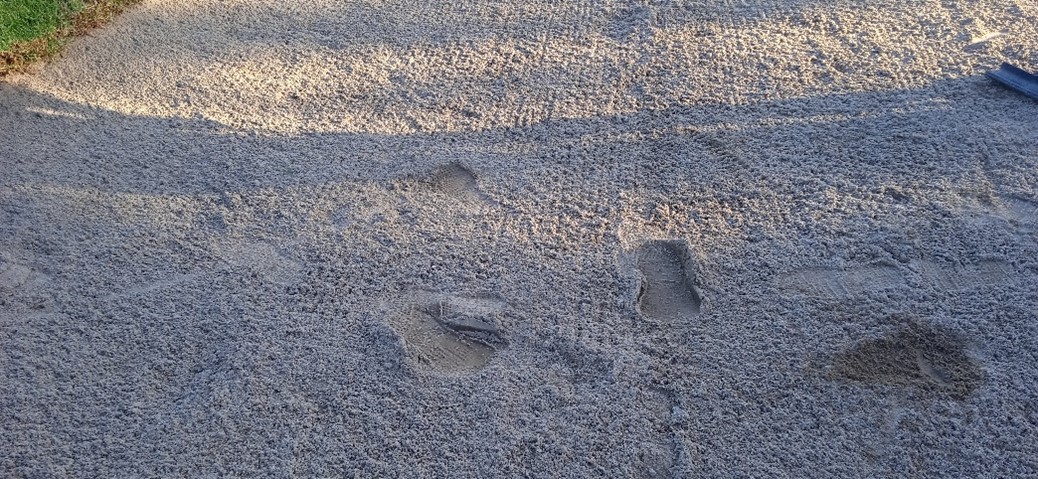 The main rule of golf is to play fair. Even on the back cover of the rule book it states to:

1) play the course as you find it;
2) play the course as it lies; and
3) if you can't do either, do what is fair.

So fairness is a key to golf.

As we transition back to more normal times, we can all enjoy golf not only as it was, but maybe we can make it better. Playing golf involves good manners and etiquette that should include taking care of the course. If you make a ball mark on a green or leave footprints in a bunker, take a few seconds to repair them before continuing with your round. Whether the golfers behind you know it or not, their round was improved by your efforts in the same way that someone else made an effort to care for the course so you could enjoy your round and make that birdie putt – yes, please!

Up and coming events

Monthly Mix Competition

29 May
The first one is our ever-popular Monthly Mix Competition followed by the even more popular quiz and dinner, this month presented by Beyerskloof. With very limited space still available please make sure you book without delay!


Mix it up with us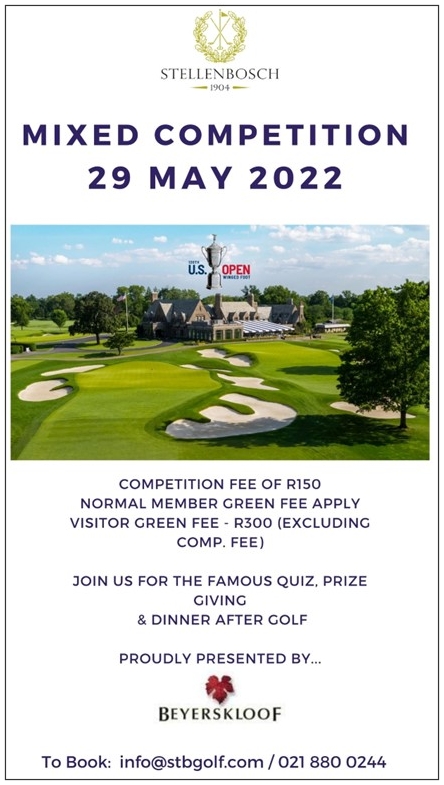 Honourable Gentlemen of Stellenbosch

16 June

The next one is one of my favourite events on the club calendar – our Honourable Gentlemen of Stellenbosch taking place as always on the 16th of June. The epic event started in 2015 and has been played six times with the President's side being victorious four times and the Captain twice.

For me, one of the best formats in golf with a day full of tradition, a jacket and tie lunch just like they still do it at Muirfield followed by another round of foursomes – it just can't get better than this...

Looking forward to seeing who will be the winning side in 2022.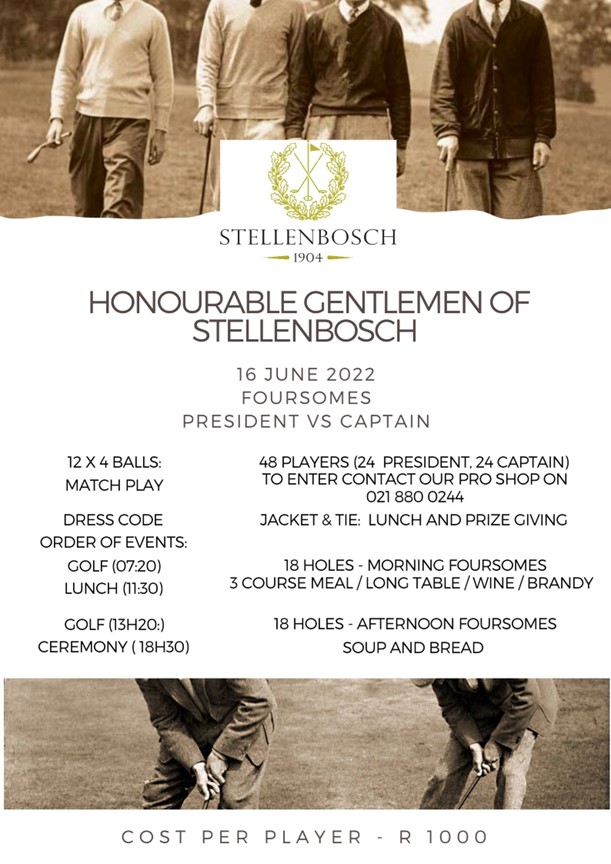 Some interesting golf trivia

Impress your peers with your knowledge of the game with this list of some of the most obscure and unknown golf trivia:

Golfing Fun Fact #1
25K golf balls are hit into the water at the 17th hole of the Stadium Course at Sawgrass each year (One of them is mine).

Golfing Fun Fact #2
The French word "Cadet" (cad-DAY) means "youngest child" and is where the word "Caddie" comes from.

Golfing Fun Fact #3
Doug Ford entered a contest and predicted his own 1957 victory as well as his winning score of 282.

Golfing Fun Fact #4
A golf ball will travel further on hot days, because the air is less dense, so it takes less velocity to travel.

Golfing Fun Fact #5
Golf balls used to be made from leather and chicken or goose feathers. One ball would cost $10-20. (That means balls are cheaper today)

Golfing Fun Fact #6
Only 20% of golfers have a handicap below 18. A golfer with handicap of 18 is called a "Bogey Golfer".

Golfing Fun Fact #7
Kassandra Komma from Oakland University has recorded two holes-in-one during a nine-round game. (Alex Velissariou did that during a 18-hole round at Stellenbosch GC – special!)

Golfing Fun Fact #8
Only two sports have ever been played while on the moon. One is golf and the other is the javelin throw.

Golfing Fun Fact #9
Until the invention and rising popularity of the golf tee, golfers played off of sand piles they built themselves.

Golfing Fun Fact #10
If you walked all eighteen holes instead of riding in a golf cart, you would walk approximately four miles. (Jannie would walk more!)

Golfing Fun Fact #11
You're more likely to get hit by lightning than make two holes-in-one. (Wow and long standing member Alex Velissariou did it!)

Golfing Fun Fact #12
Each golf ball manufacturer creates different numbers of dimples on their golf balls.

Golfing Fun Fact #13
The highest golf course in the world was once the Tuctu Golf Club in Morococha, Peru, which sat 14,335 feet (4,369 m) above sea level at its lowest point.

Golfing Fun Fact #14
The world's first ever golf tournament for women was held on January 9, 1811 at Musselburgh, Scotland.

Know any fun golf facts?

Share them with me

Ending on exciting note

With all this new wealth of knowledge I would like to end of my Dog's Tale this week by wishing Marizan all the best with the birth of her second child, Emma. The due date is the 2nd of June, but she will be finishing up on Friday. Marizan, from everyone and I mean everyone we wish you and baby Emma, all the very best! Such a special time in your life...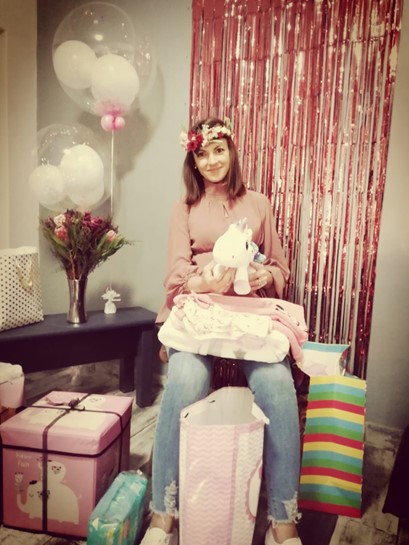 Bye-Bye Marizan!

Keep it in the fairway,
Louis




Pages