You are here
Newsletter
Changing times
Friday, April 24, 2020 - 09:45





Trending ...


It is changing times we are living in, with elbow bumping becoming the new hello and hours being spent in cyber space.

We are all staying positive by staying connected.

One of my favorite quotes by Winston Churchill, "A pessimist sees difficulty in every opportunity, an optimist sees opportunity in every difficulty." There is always something valuable that can be derived out of difficulty, adversity or change. We just have to look for it with open minds.

How great was the videos of you guys "practicing" in Erich mail last week – BRAVO to each one who sent his / her video. I loved it! Robbie, what a display my man, I see an opportunity for you and that's my point - see the opportunity embrace the change. I can't wait to see you all again and enjoying some wonderful new "experiences" at the club.

Talking about experiences, what an experience on Friday afternoon when I did the draw. There was so much emotion as you, yes you, helped us to raise R197'600 for the vulnerable staff and caddies of Stellenbosch GC. I even had a "Zuma" moment, for those of you that have not yet enjoyed the video – oops!

Peter Hill wins the big prize (membership) and just like the man he is – donates it back immediately (I phoned him). Special … We redraw and Margorie Jefferies wins – YIPPEE

This is followed by a hart warming phone call from a member donating R2400 taking the total raised to R200'000. I would once again like to thank each and every one who contributed by making a difference in the lives of people in needs. It's such an honor to be part of Stellenbosch GC and its wonderful membership and friend out there – I salute you all!

The new proposed dates for the Stellenbosch Club Championship have been announced. This prestigious event will be played on the weekend of 19 & 20 September 2020, again proudly presented by Argent Industrial and supported by Protea Hotel Stellenbosch, Distell and Stellenbrau.

I had a wonderful response from my quiz last week. What I enjoyed most about it was writing back to the professors that they only scored 50% on the test. Suppose 50% is a pass! Deon Steytler was the first member getting a 100% in the quiz. The beautiful golf course, the one and only Augusta, probably easier to recognize during the week of the Masters. This wonderful major will be played from the 12th to the 15th of November in 2020. Can't wait for my friend and member of Stellenbosch GC Justin Harding to tee it up at the Masters later this year! Another Stellenbosch member and rugby legend, Robbie Blair was the gentlemen in the photo with David Frost.
1. Augusta National
2. Robbie Blai


I had some good laughs with some of the "guesses" – here are a few for you:
• Fancourt
• Royal Johannesburg and Kensington (looks very similar – I like!)
• Old Johannesburg Country Club
• Erinvale
• Nick Faldo
• David's brother
• Fulton Allen
• Ernie Els


Well done to Ben Grib & Schalk Burger, who also got both correct!

David had the opportunity to play Augusta a few weeks before lockdown and sent me those two photos. He also sent me this one – so let's get those brains working again during lockdown!


Tell me what is different on this Masters Cap?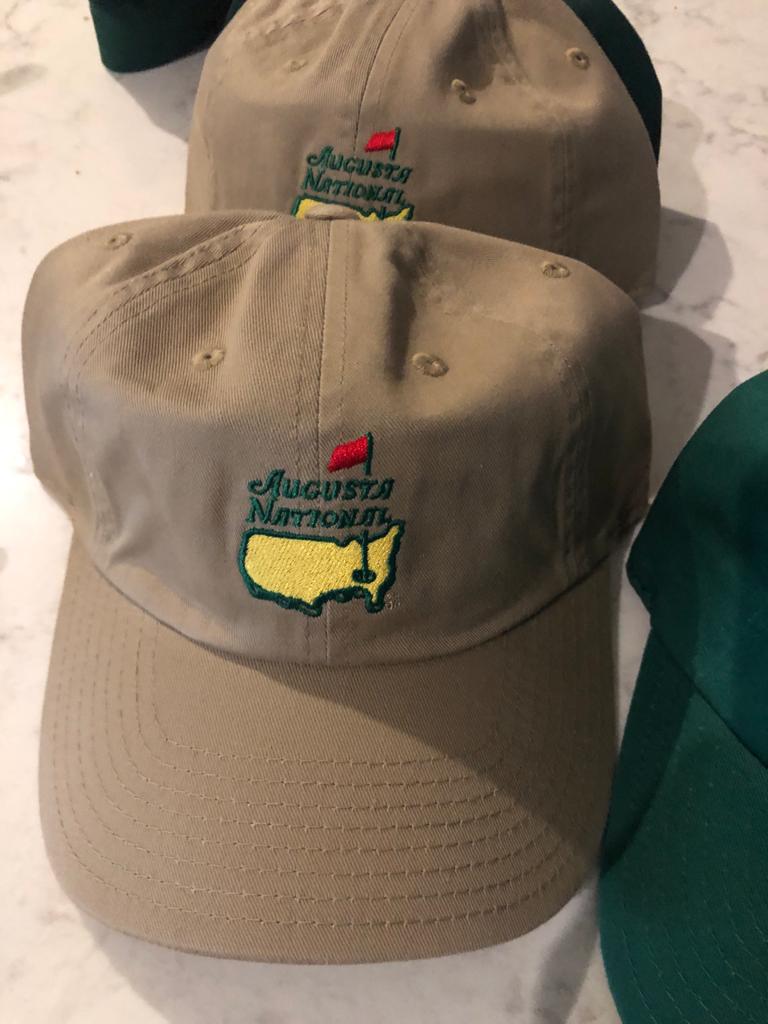 Give me your answer here >

We are all hoping for a positive Presidential Address this evening, with news that we will soon be able to return to the golf course. Golf RSA, CMASA and the PGA of South Africa is in communication with the minister of sport appealing for a positive outcome on behalf of this wonderful game!

Stay Safe,
Louis




Pages