You are here
Newsletter
Your golf shopping has never been this easy
Friday, July 2, 2021 - 12:19





Hip hip hooray it's Friday,

It's a beautiful winter morning in Stellenbosch as I pop this quick tale to you...

The week has been a rather wet one, with 144mm of rain being measured from Friday to Friday and some more rain predicted for the weekend. We managed to keep the course open through this period, but sadly had to close it for carts to restrict damage to our beautiful course.

Comp results for Wednesday

4BBB Medal

1. Jaco Spies & Graham Walker (67)

Lovely to see everyone who enjoyed a 18-hole walk on Wednesday and hip hip hooray to our winners on the day Jaco and Graham enjoying the Scottish dream!

Making your golf shopping even easier

During lockdown last year we started an online shop and from time to time ran some great specials in our banners at the bottom of our result pages or when sending out broadcast messages.

Please go and click on the banner to view some great clearance sales. We will also be running a number of competitions on our social media platforms to create some more visibility for the online shop.

However, I'm still a big believer in personal relationships and it will still be years for ecommerce to take away the personal touch from us to you - nothing better than letting me know how or with what we can assist you with, to create the perfect experience and product.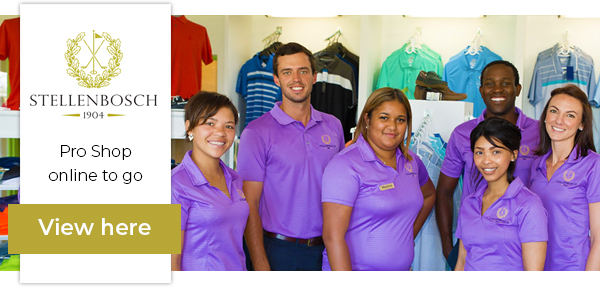 Please note

Before I bid you farewell on this Friday and get ready for the weekend - please take note that on Saturday 17 July 2021 most of the afternoon field has been reserved for league golf and there are only 4 x 4 balls available in the afternoon field. We have tried to make the morning field as big as possible. With 5 teams representing Stellenbosch GC in the league this season we need to be the host club on the 17th. We wish our teams all the best for the day!

Stay warm,
Louis


Pages