You are here
Newsletter
Feliz Navidad
Friday, December 7, 2018 - 14:21






Season Greetings!

It's the 12th month of the year, December, a month of enjoyment, relaxing, reflecting and celebrating another year on planet earth! As I sit here ths morning it's more a feeling of recovering after all the year-end functions and celebrations I am enjoying at the moment. And people wonder why I love this time of the year so much!

Parent & Child Competition

33 years ago was the first time this very special, Parent & Child, competition was played at Stellenbosch GC. Similar competitions are played all over the country and the world. The Hertzog family has been part of this competition from the start and it was no different this year. Charlene & Andri Theunissen (mother & son) played well and came close by making 48 points, but at the end it was the father & son combination of Johan (snr and junior) Roelofse making one more point ending on 49 and being crowned the 2018 Champoins! Sadly I could not join in the day, but watching all the players it was most definitely a day of stenghting/building relationships, while spending quality time together on the golf course. On behalf of all the players I would like to thank Dr Hertzog for his involvement once again in this very special event at Stellenbosch GC.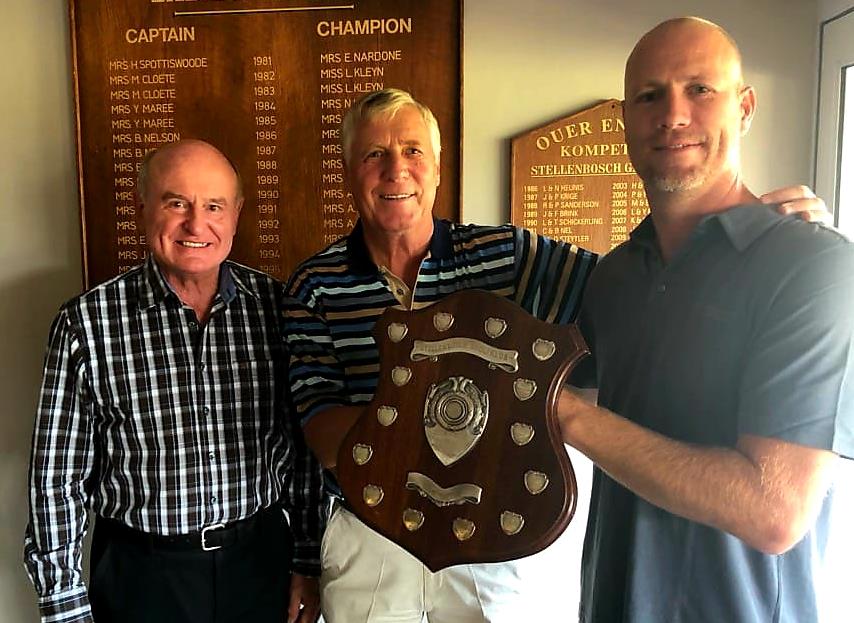 Dr Hertzog with the Champions for 2018 Johann (snr) & Johann (jnr) Roelofse


Brushing shoulders with one of the greats!

What a pleasure spending some time with David Frost last week. The energy around him and everyone with him is just special to see and be part of! We wish him all the best for his two upcoming tournaments in Mauritius and the Seychelles. It was a great day for Erhard and Luan, two great up and coming golfers – sadly in the end it was experience that out-trumped youth. But you keep and eye on these two boys, they can play!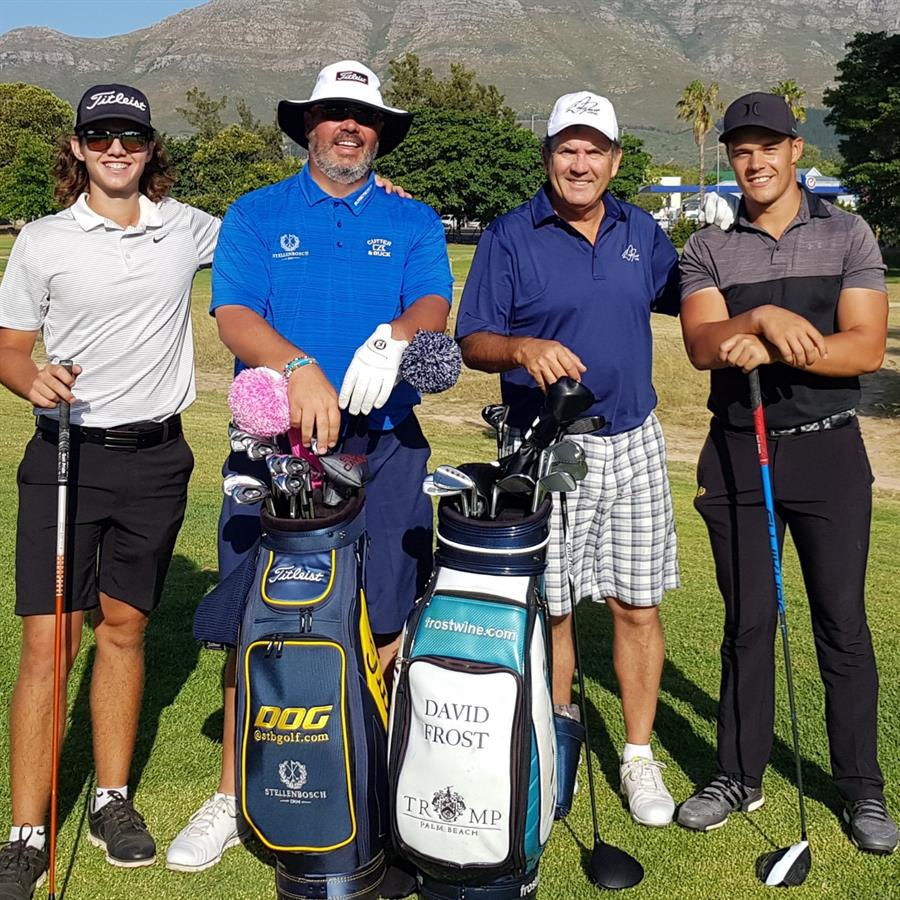 Experience vs Youth = Experience always wins!


What a night!

This must be the best party, oops, I mean golf end of year function, each year! I just love being part of our wonderful ladies' section, boy do they have spirit. I wish I could add all the photos of the day into my Dog's Tale. What made it especially special this year was the Christmas in the Winelands theme. My two favourites, wine and Christmas, and I get to enjoy it with 72 beautiful ladies.

Everyone got dressed up – sadly there could only be one winner and no one more fitting than the most spirited lady tannie Engela van der Walt (what a great lady) Margie Bertram, Melanie Frylinck and Marjorie Jeffery. These ladies really got the theme combined and looked great! Our Champions of the day scoring 89 points were Mollie Kern, Anita Kruger, Charlene Theunissen and Kalla Venter – Well done ladies! Special day, special evening and special people.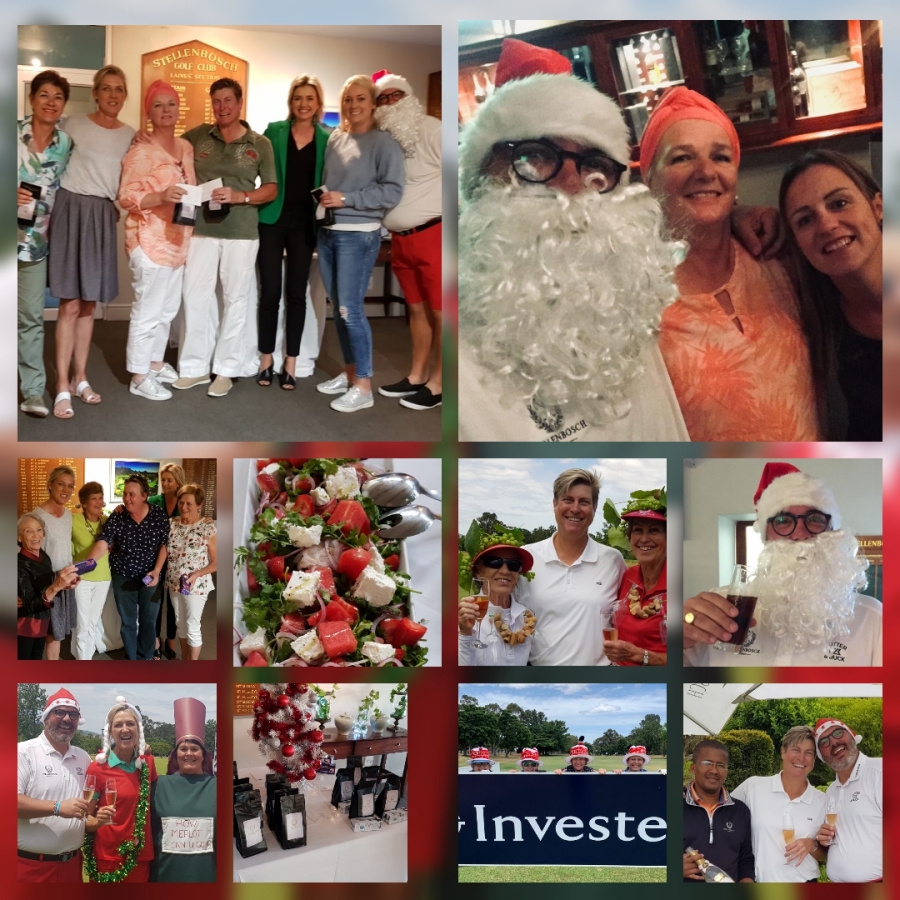 Best party of the year!


The 2018 Captain's Day

The 2018 Captains Day, proudly presented by Investec, was a roaring success! What a fantastic day and evening to end off the year, but more importantly to give recognition to a number of special achievements throughout 2018. But it was not the achievements from 2018 that was the highlight of the evening, but rather honoring and acknowledging three special gentleman for their contribution to Stellenbosch GC. Joining Stellenbosch GC in 1958 Duimpie Bayly this year has been a member for 60 years, he has served as President of the club and still plays every Sunday in the Sunday School. Alex Velissariou has been President and Captain of Stellenbosch GC and was also recognized last night along with Johan Laubscher for their continued membership of the club for 40 years. I ended off the evening by saying it is so special to be part of a club with so much tradition and history since 1904! Very special and from all thank you for your contribution and support over so many decades.







The golf for the day was one fittingly won by the President's 4 ball, consisting of Philip Malan, Jack Kukard, Wessel Kotze and Leon De Wit scoring 92 points. Philip and Jack played in the final of the Doubles Knock Out against Wessel and Leon and was crowed the Champions for 2018. The singles Knock Out was won by Stephen Loubser who out played Johan van Rooyen. This years league prizes went to the following players: Hennie O'Kennedy and Karl Osche nominated as Kruger Players for 2018, Clive Wagner was the Brodie player of the year, but more special and fitting was Clive also winning the Captains prize for his contributions to league. He has played over three decades, has represented every single team for the club and still plays a wonderful game. Special Clive – Well done!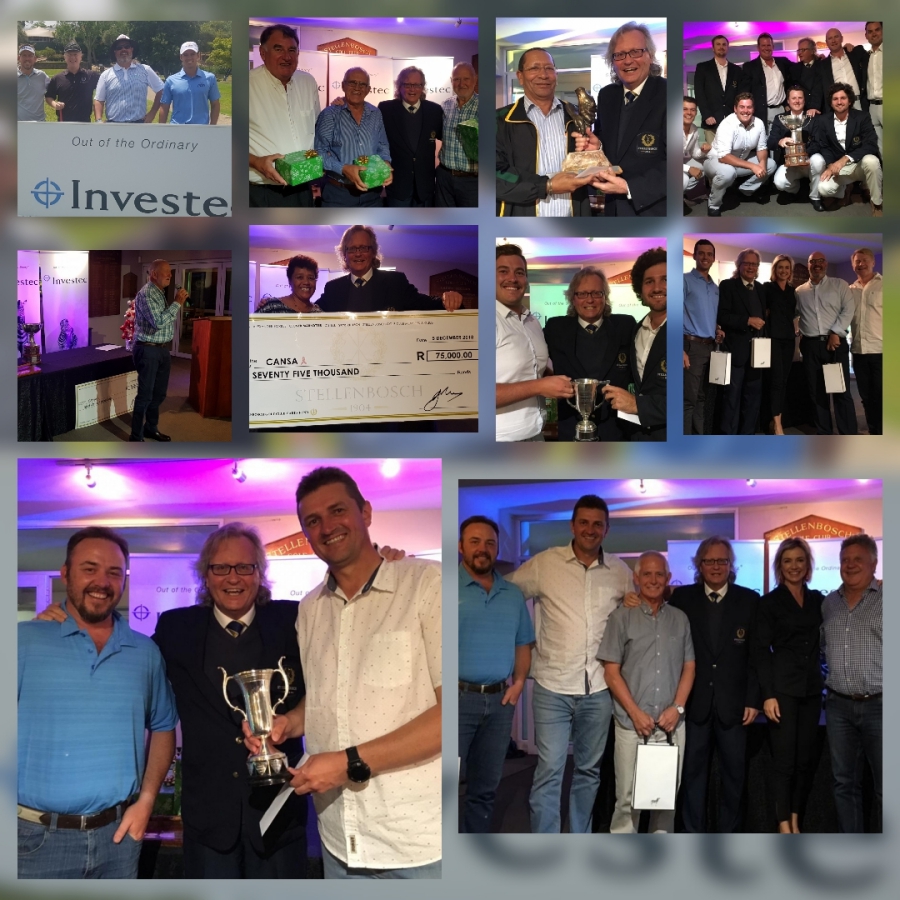 Captains Day prizegiving proudly presented by Investec


The drive that started at the Abacus Eikestad Classic, Birdies for Breast Cancer had a special check handover to CANSA at the Captain's Day/Dinner. In total a sum of R75 000 was raised in the week. Can you believe it by making a few birdies! And yes, a huge thanks to a number of corporate companies who helped to reach this special number!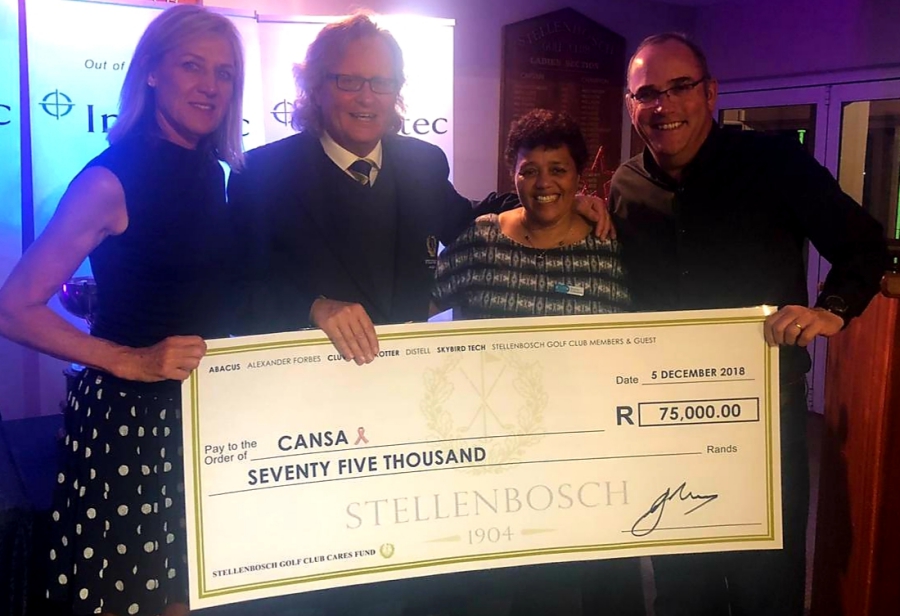 Sharon from CANSA receiving the check from Captain Peter Hill


What's happening on tour?

Sadly, Justin could not pull off the win in Mauritius over the weekend, he finished in a respectable 4th position. Oliver Bekker came back beautifully on Sunday and finished in 7th position. Justin will be returning home to compete in the South African Open at Randpark. Joining him from Stellenbosch GC will be JJ Senekal and Erhard Lambrechts. Oliver, is heading to the US, where he will be playing in the Final Stage of the Web.Com Qualifying School – best of luck to all our Stellenbosch boys on tour!

Feliz Navidad,
Louis





Pages