You are here
Newsletter
Golf greetings
Wednesday, April 3, 2019 - 11:51





Golf greetings,

It was back to school for the kids on Tuesday… We had a busy March, with 5704 golfers enjoying their time at Stellenbosch GC. I was looking forward to taking it a little slower in April, but after looking at the calendar, it looks like we have another bumper month ahead.

To spoil the members we will be hosting the following days for you:
Beyerskloof Day – 3 April 2019
April Fools Cup – 6 April 2019
Masters Day – 10 April 2019
Target 36 Launch (for the juniors) – 14 April 2019
Ladies Ryder Cup vs Paarl – 16 April 2019
De Stell Neighbors Cup – 17 April 2019
Group One Nissan – 24 April 2019
Mix Competition – 28 April 2019
Friendship Cup – 1 May 2019
Junior Club Champs – 3 May 2019
Club Champs – 4 & 5 May 2019

Please note the course and clubhouse will be closed on Good Friday, 19 April 2019.

SAGES Nationals is less than a week away

We are welcoming seniors from around South Africa during the week of 8 to 12 April when we host the SAGES National Championship. On behalf of Stellenbosch GC I would like to welcome all the players and wish them a memorable and enjoyable week in the heart of the winelands… for the members reciprocity has been arranged at the following Clubs.

Reciprocity for the week of the SAGES National Tournament:
• Somerset West – R250
• Strand – R170
• Erinvale GC – R500 (includes golf cart)
• De Zalze – R245

On the corporate golf day side we are welcoming BUCO on Thursday this week and on Friday we are hosting the Consultants Cup, with the Mayoral Golf Day taking place on the 25th of this month.

In the end that equates to 16 events taking place in 29 days during the month of April. Yip it's definitely not going to be that quiet and we love it!

March competitions

NASHUA Winelands Challenge








The 2nd round of the NASHUA Winelands Challenge took place on 20 March and yet again it was well supported and greatly enjoyed. Winning the day was Poen & Suzette Olivier on 74 points, who visited us for a practice round before the SAGES tournament. In second position was the dynamic duo of Christiaan Laubscher & Kobus van der Merwe with 72 points.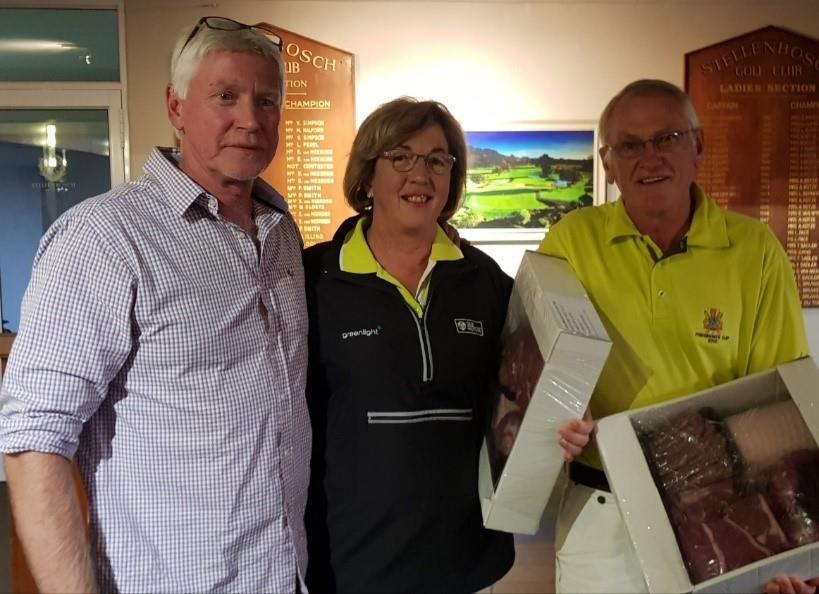 Stafford Harding with the winners of the day – Poen & Suzette


Still leading after the second round is the father and son combination, Pieter van Coller and Cedrick van Coller with 154 points.

Current scores:

1st - Pieter van Coller & Cedrick van Coller – 154
2nd - Gerrie Jonas & Louis Swanepoel – 149
3rd - Nieuwoudt Heerschap & Dries Horn – 149
4th - Carel Nel & Fred Kieks – 146

It's tight at the top and a lot to play for and the best about this wonderful format is it's easy to get back in the game quickly. Once again, I would like to thank Stafford Harding for the continuous support and at the same time cheers to Justin for buying everyone at prizegiving a round of drinks after his win at the Qatar Masters – CHEERS!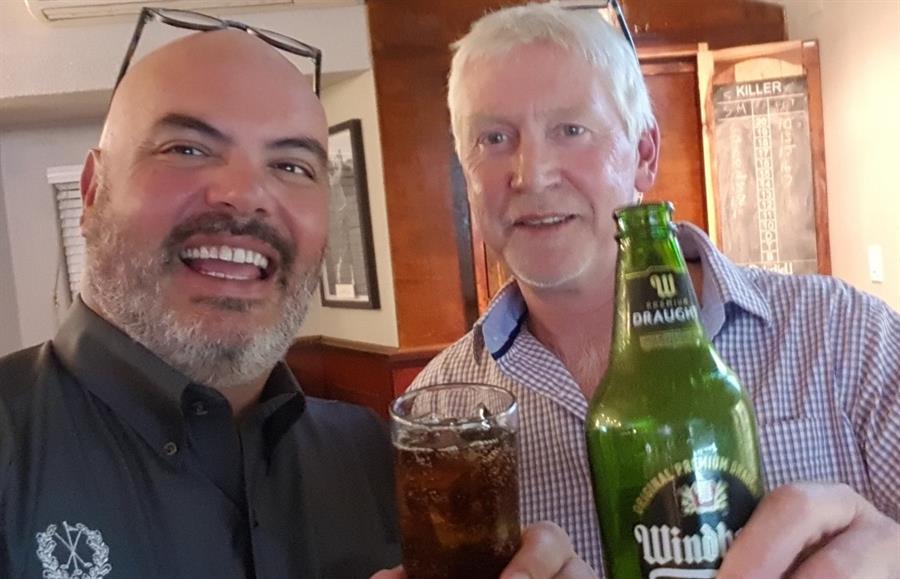 Cheers Justin – enjoying one with Pops!


Generations Cup

The very next day we hosted our second Generations Cup, annually taking place on the 21st of March (Human Rights Day) and once again it was a winner. A brainchild of our General Manager, Chris, who one day said to me "Louis how do we get old and young, people of different generations, to play together and experience the wonderful game together?"

The rest is history and I am happy to announce that it was Generation X who was crowned the champions in 2019. Congratulations to all of them and thank you to all the members and friends of Stellenbosch GC who came out to support this wonderful event.





Generation Cup Winners – Generation X (The lost generation)


We had some visitors from Fancourt...

Is golf not just the most special game in the world, we get to host so many golfers annually at the club, but it's always a pleasure welcoming the caddies from Fancourt, as they enjoyed a round of golf at Stellenbosch GC on their annual golf tour.

Spoiling a couple of visitors or members every now and again always adds a nice smile at the end of the round or even better, treating them after 9 holes- this makes the back nine most enjoyable. It's all about the experience…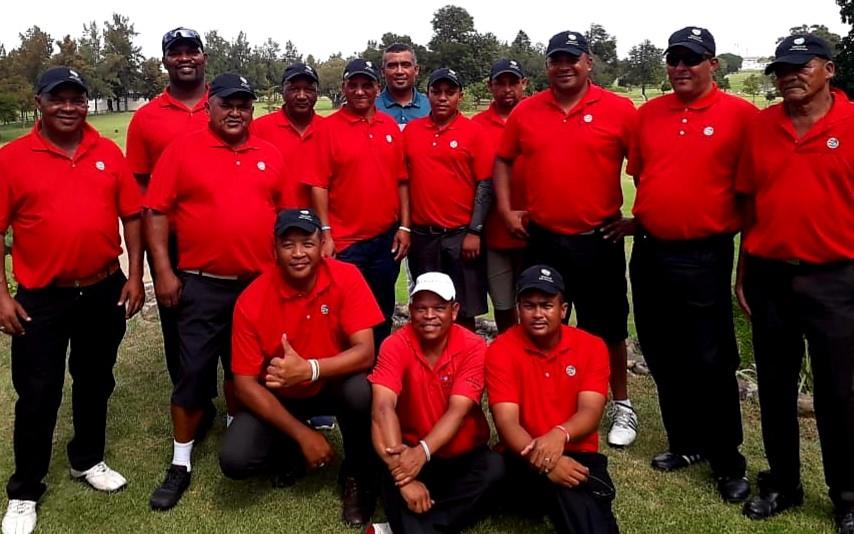 All smiles after the round – hello Fancourt!








Montly Mix Competitions toured the world

It's been a whirlwind of travel the last couple of months during our Monthly Mix Competitions. We teed-off in Mexico in January, then popped over to Mauritius for February and in March we headed to Ireland.

Our March Mix Competition was sponsored by Simonsig Wines, proudly wine of origin, situated in Stellenbosch and is a family owned farm. It was great to welcome Francois Malan at the prizegiving and listen to their lovely success story. As I always say – keep supporting the sponsors like they support us.

St Patrick's Day was a big success!

With our Irish theme it was green all around the course with the golfers getting into the Irish spirit by dressing for the occasion and I loved it. Having a best dressed prize does help, I think! Winning the day on 98 stableford points (all scores to count on the 17th) was the Fourball of Stephen Weber, Ine Weber, Fritz Wirth and Noreen Sturrock.

The evening continued in true Irish spirit with Chef Gerhard serving cottage pie and the players in the bar making such a noise that they could almost be heard in Ireland – OOPS!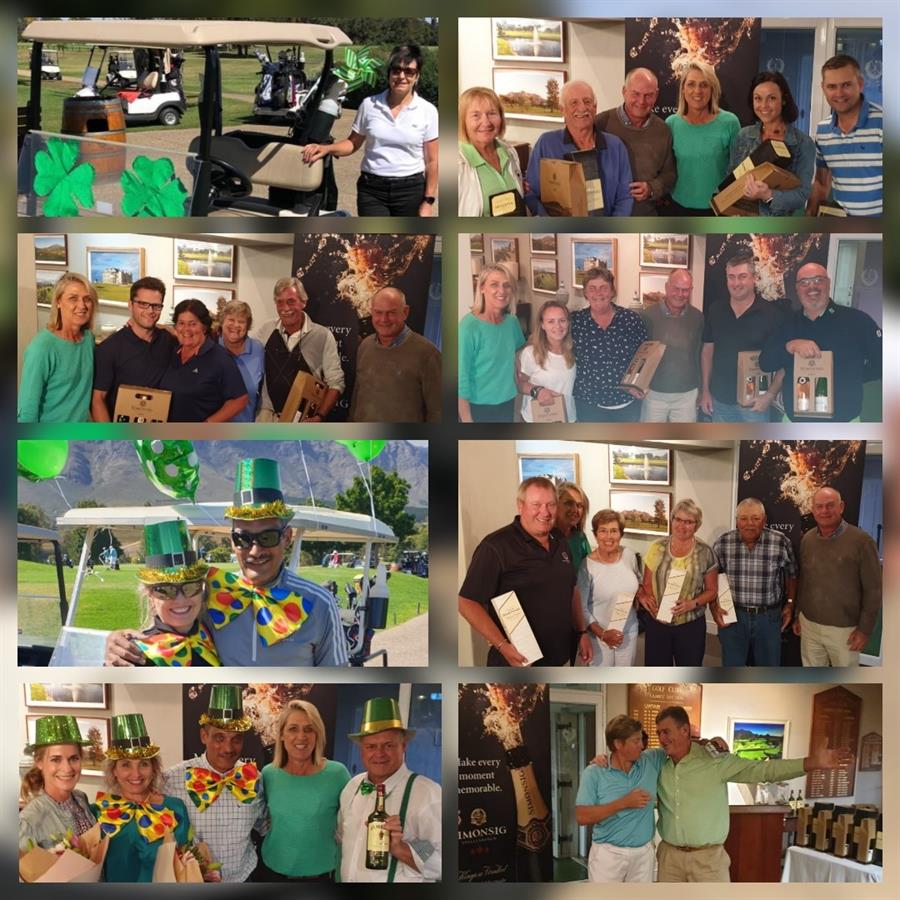 Everyone was in high spirits during the Irish Mix Competition, presented by Simonsig Wines


Are you ready for the Majors?

Where to next? Well there is only one place to be in April and that's in the United States of America in the small town of Augusta, as they host one of the biggest golfing events of the year, The Masters.

Stellenbosch GC member, Justin Harding, will be pegging it up in the 2019 Masters Tournament! Justin won two of his three matches at the Dell Match Play, only losing to Rory McIlroy. In the end it was good enough to secure his spot at Augusta, so guess what we all will be doing from the 10th to the 14th of April?

Keep watching this space as we will be announcing a few special events and competitions closer to the time. For now, all the best for the Texas Open Justin and from all of us, congratulations!

All the best,
Louis


Pages