You are here
Newsletter
This is what dreams are made of
Thursday, July 13, 2017 - 20:43



Greetings from Stellenbosch Golf Club Thursday, 13 July 2017





I have the privilege of writing the newsletter this week so I am making the most of it! Featuring in it is great news from the range; a little more on Garrett Slattery and the tournament I am fortunate enough to be guiding him at; our juniors' success on the course; SA Kids Golf news; and last but not least good news about our famous D.O.G. Louis Destroo:

Dream coming true!
The accompanying photos are proof that my dream is starting to come true! The new building on the range, which will feature a kiosk and ball dispensing area, as well as a world-class teaching and fitting studio should, if all goes according to plan, be complete in September or at the latest in October.

When next you visit the range you will see the new temporary position of the old hut as well as the construction site. The laying of the foundation will commence next week. Please bear with us during the construction phase. Needless to say I am extremely excited about this as it will certainly take my coaching and fitting capabilities to the next level as well as making the range experience so much better for all.

As mentioned in previous newsletters, I already have a portable Flightscope apparatus on which I am practising in order to hit the ground running when the studio opens with all the latest Flightscope equipment inside. All I can say is that Flightscope as a serious "game-improver"! More on this below.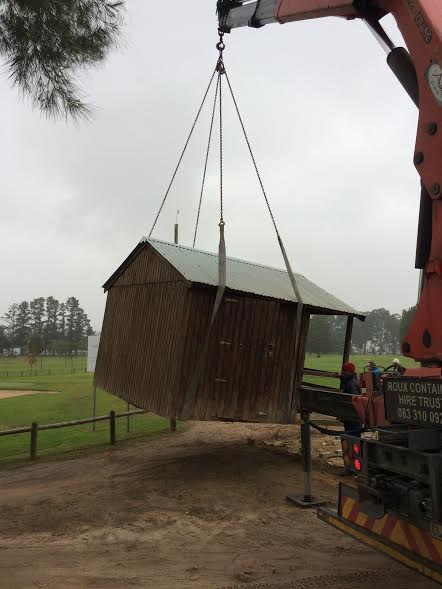 Old hut being moved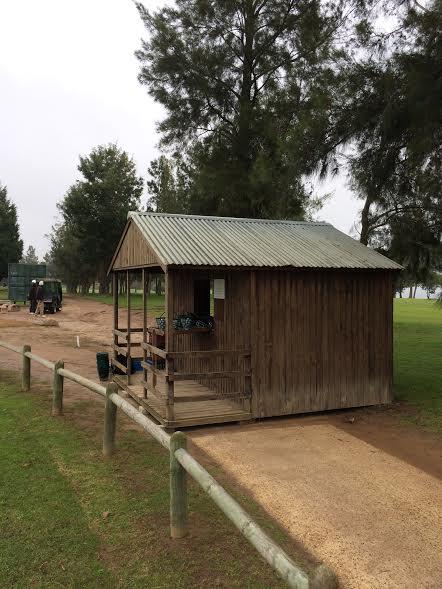 New hut position


I also mentioned that I will begin explaining some of the most critical data which this amazing doppler radar driven apparatus (invented by a South African engineer as mentioned before) can measure with great accuracy. Two of the most critical pieces of data for me are "club path" and "face to path" - club path simply measures by how many degrees the club face was either busy travelling to the right (in-to-out) or to the left (out-to-in) at impact. The face-to-path data simply tells me how open (facing right) or closed (facing left) the club face was in relation to the path (and to the target line) at impact. The combination of these two pieces of data (especially on average) to a large extent predict what someone's ball flight (good or bad!) is like. More importantly it tells me exactly by how much each one needs to be tweaked in order to produce a better ball flight.


If you would like to come and experience this amazing technology first-hand, please feel free to contact me here.

Besides the studio, the new building on the range will also greatly enhance your general range experience, as you will be able to purchase the buckets of balls directly from the building, together with some cool drinks, some snacks and the odd beer or three! More sitting area will also be provided. This will also set the scene for some fun events to take place on the range.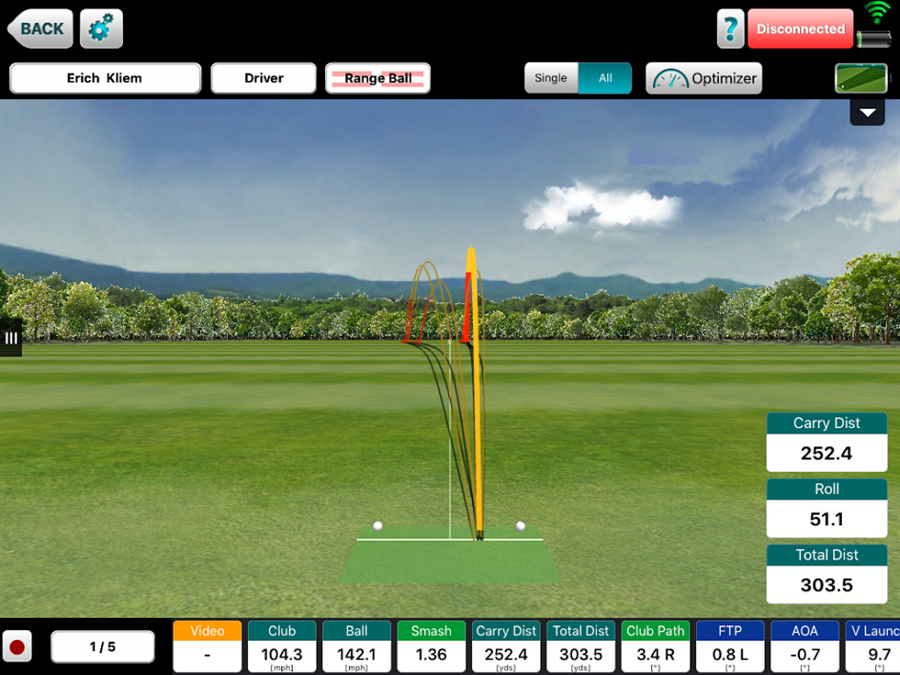 3D image displaying the trajectories of allshots hit.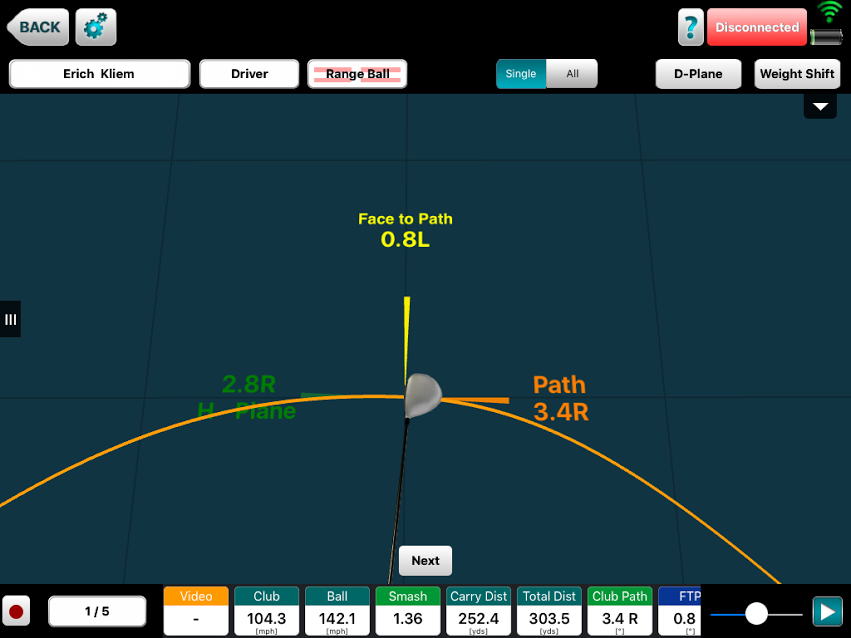 3D image displaying the most vital data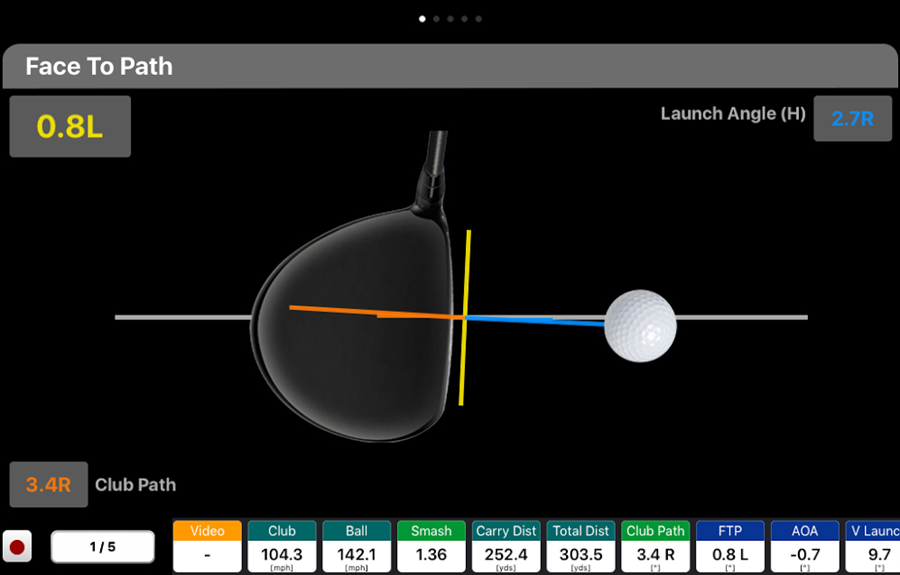 2D image of the position of the clubface at impact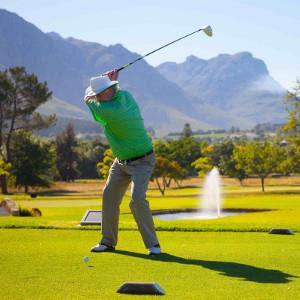 Garrett Slattery in action Garrett & myself ready for the challenge
One of the big heroes of our club and the top-ranked visually impaired golfer in South Africa, Prof Garrett Slattery, took part in the British and Irish Blind Opens last week. These Opens took place in Ireland at Greenore Golf Club, and Nuremore Golf Club respectively. Garrett once again did very well, notably finishing 2nd in his division (Gross) at both tournaments. What a good start!

Garrett has combined this with a visit to his father in Ireland, and the tournaments also acted as preparation for the big one - the ISPS Handa Vision Cup in Canada taking place on 21 - 23 July, in which I will once again have the privilege of guiding Garrett, who has also been chosen to Captain the Rest of the World team which is taking on a North American team.

We had a small fright about a month ago, when Garrett fell on his hands, breaking a bone in his left wrist just above the thumb which he at first was not even aware of! Luckily it is holding up fine so far, and Garrett will be having it treated more intensively upon our return. Being blind is not for the faint of heart but they make them tough around here or should I say in Ireland!


The Vision Cup Tournament 2017
This tournament is taking place at the Creston Golf Club in Creston, British Columbia, Canada. It is based on the Ryder Cup format with two days of modified greensomes matches followed by singles matches on day 3. The participants are categorized in three divisions according to their "level of visual impairment". Needless to say this makes it a true team sport (the player and his/her guide). To be able to witness these blind golfers still make the most of it and enjoy their golf to the utmost is truly a blessing.

I have to mention here that the participants of the (now annual) Club Putting Championships helped to make this a reality and especially also the sponsor of the putting event, Kurth Geiger, for which Garrett and myself are truly thankful. I would also like to mention here that the Boland Golf Union also generously helped us to make this very long trip possible, again a hearty thank you and we will not disappoint you! I will try my best to keep you updated while there.

Read more about the incredible world of blind golf here.


Adriaan de Waal and other junior members make us proud
Stellenbosch Golf Club scholar member, Adriaan de Waal, has made us proud by winning the u. 19 Section of the Stellenbosch Junior Open which took place last Thursday with a score of 75 (gross). He won after a playoff against Riaan Rooi.

Another Stellenbosch scholar member, Franz Husfeld, finished in 3rd spot with a 77, while yet another member, Francois Joubert, finished 7th scoring 81.

Congratulations to all of you and keep up the good work.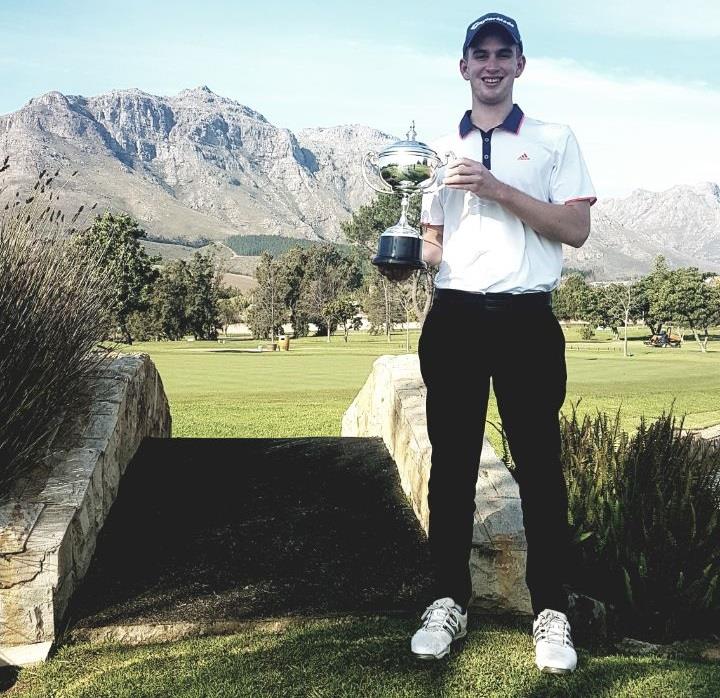 Adriaan de Waal with the trophy


SA Kids Golf
Speaking of junior golf, the next SA Kids Golf Tournament will be taking place at our club on Sunday 30 July. We would love to see as many of your youngsters taking part as possible. SA Kids Golf is a non-profit organization that started in 2004 and organizes fun-spirited competitions for kids between the ages of 5 and 14. It is supported by the PGA of South Africa and sanctioned by Golf RSA. They host 12 events annually in the Western Province and Kwazulu-Natal, and 24 events in Gauteng. They have also been awarded the rights to host qualifying events for a number of international junior tournaments including the U.S. Kids World Championship.

Please visit their website www.sakidsgolf.co.za for much more information and click here for the Stellenbosch entry form, orclick here if you want to ask me anything about SA Kids Golf, our junior programme, any golf question at all, or if you would like to book a lesson.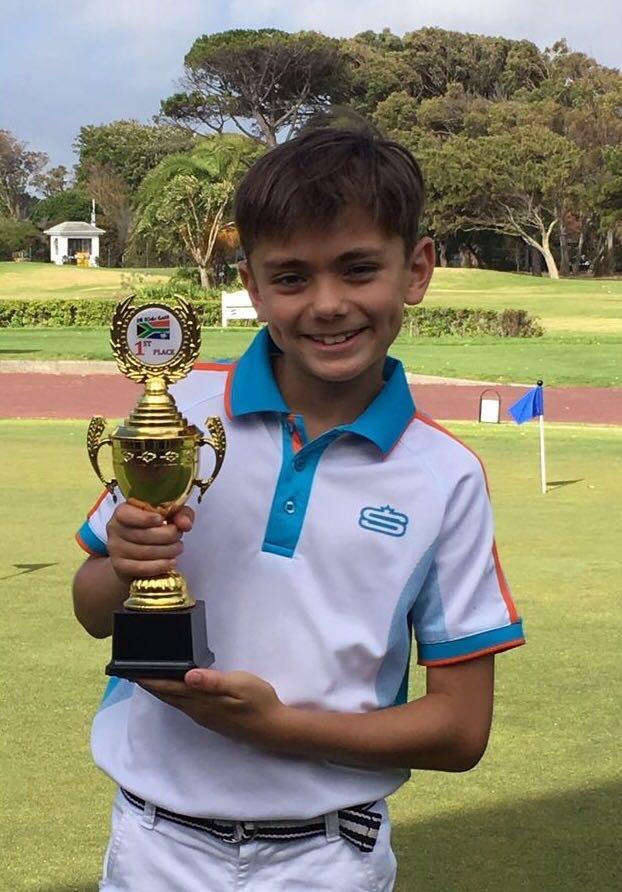 Stellenbosch member Gerard Hartman
with one of his SA Kids Golf trophies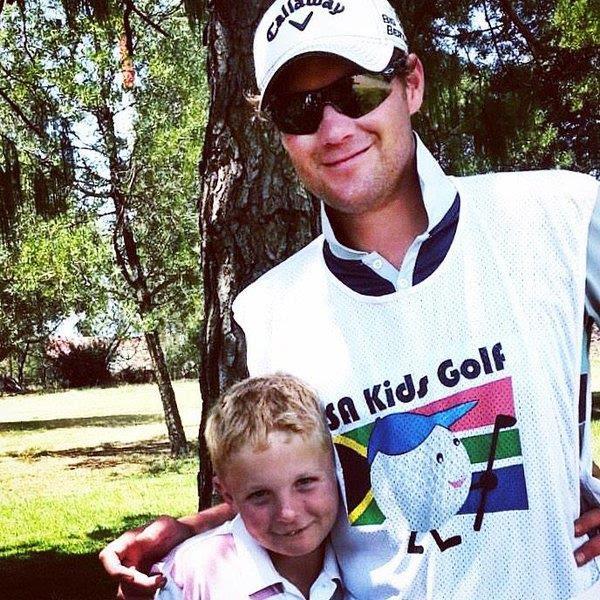 What it's all about!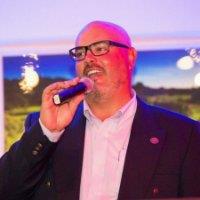 Our famous D.O.G. Louis gets yet another award!
Last but not least, I would like to congratulate my long term colleague and our "Big DOG" (Director of Golf) Louis Destroo for being awarded the PGA Club Professional of the year award for the Western Cape. We hold thumbs that he may receive the national award as well, which he has already won once previously. From all of us, congratulations Louis.

Louis will be reporting back on the latest from this week's events in next week's newsletter.

We are looking forward to welcoming and hosting the country's top women golfers to the Sanlam SA Woman's Match Play Championship 2017 taking place at our club from 16 - 19 July. Four of our members participating and whom we'll be keeping an eye on are Crystal Beukes, Cassidy Williams, Nina Grey and Bianca Wernich.

Enjoy The Open and see you soon,
Erich


Pages