You are here
Newsletter
MSP Play to Give Golf Day
Friday, September 22, 2017 - 19:02



Greetings from Stellenbosch Golf Club
Friday, 22 September 2017






Welcome to the weekend,

We are hosting the BIG ONE today! Stellenbosch Golf Club will be hosting the annual MSP Play to Give Golf Day with no less than 152 golfers pegging it up. It's now the 8th year that we have been the home of this prestigious golf day! These guys know how to present the perfect event at the perfect venue...We know they are going to enjoy their day and evening with us here at Stellenbosch Golf Club.




On Wednesday we had the pleasure of another Beyerskloof sponsored day. I spent the day on the golf course with Beyers and Barnie from Beyerskloof, enjoying my weekly golf partner's birthday. Happy Birthday Doc Jaco – we might not always play well, but we always enjoy a day out on the golf course... #livingthedream


Winning team for the day – Well played!

The birthday boy celebrating with Beyers

Congratulations to the two Oosthuizen brothers Robbie and Anton, playing with Quintin Jansen and Leon Esterhuizen score 96 points on winning the day. Great golf considering they play off very low handicaps. Both the brothers will also be representing the Boland Mid Am Team in October at the SA Mid Am Inter Provincial Tournament.

Well played Luana Shaw, she won the annual Gail's Copper Bowl with 37 Individual Stableford points. As the year is approaching its end the ladies are in the final stretch of finishing off all their trophy events. Good luck to the ladies playing in the last few!



Dot with the winner Luana Shaw

So the much anticipated event is going to take place on the 6th of October 2017 on the 5th hole. How fast can a hole be played, by 4 players? Mmmm – good question, with slow play always high on the discussion list around the tale – why not try and break a record? Watch the video to have a look.



Click to watch: https://goo.gl/QLh5N9

Start making up your teams! Try to put it together as follows – same gender and handicap spectrum. Come on league teams! We are going to mix it up a bit on the day also. After watching the video clip you can put your own strategy together of who is going to hit which shot. Please phone the pro shop to start booking – 021 880 0244. The event will start from 15h00 at the 5th hole, with the fires going to make sure the bodies are nice and fuelled and what better than a nice bar on the 2nd tee box to quench that thirst. Lots of divisions and lots of FUN!




Wednesday 27 September 2017

Harcourts Winelands will be spoiling you in their annual event. As in the past this promises to be another great day. It will be and 4-Ball Alliance Stableford Surprise, after golf each four-ball will be spoiled with some pizza & vino – let's call this a perfect day. Why not click here and have a look at some beautiful properties in and around the area?





We are the champions!

While we are closed for spring treatments, the 2nd round of the Blaauwklippen Cup will be taking place at De Zalze GC on Wednesday, 4 October 2017.

Should you like to play and represent Stellenbosch Golf Club, please contact Marizan or Ernie at 021 8800244. We are currently leading by 18 point to 6 points that the De Zalze members made. #champions

Reciprocity has been arranged at the following clubs from 2 October to 6 October 2017:

• Pearl Valley

• Paarl Golf Club

• Devonvale Golf Club

• De Zalze Golf Club

• Strand Golf Club

• Ernivale Golf Club

On Monday morning we are pegging it up for our first Generations Challenge! Which generation will be the first champion, who will be the winning 4-ball? All that and more will be known Monday afternoon...Can't wait for it! Following the golf we will enjoy a steak, skilpadjie or two from the fire, while enjoying the view from the deck! #GenerationChallenge

Sadly I end my newsletter this week by saying goodbye to oom Piet van Breda, who passed away. Oom Piet joined Stellenbosch Golf Club in 1982. I fondly remember him playing 9 holes almost every day in his later years. Oom Piet also served on the committee for many years. RIP oom Piet.

Enjoy your golf this weekend,

Louis









Dear Members and Friends,

A short section this week from me just to show those that have not seen it yet, how nicely the range building and studio is advancing! We are all very excited and looking forward to the "new range era". The opening ceremony will be a fantastic event, we will certainly keep you updated once we have a date.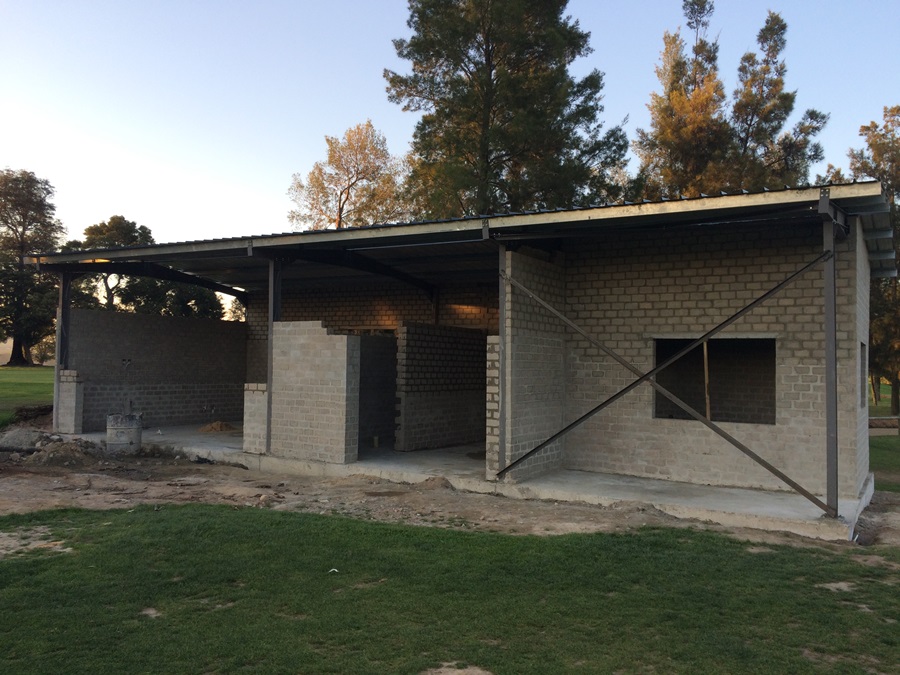 The studio will be on the left and kiosk on the right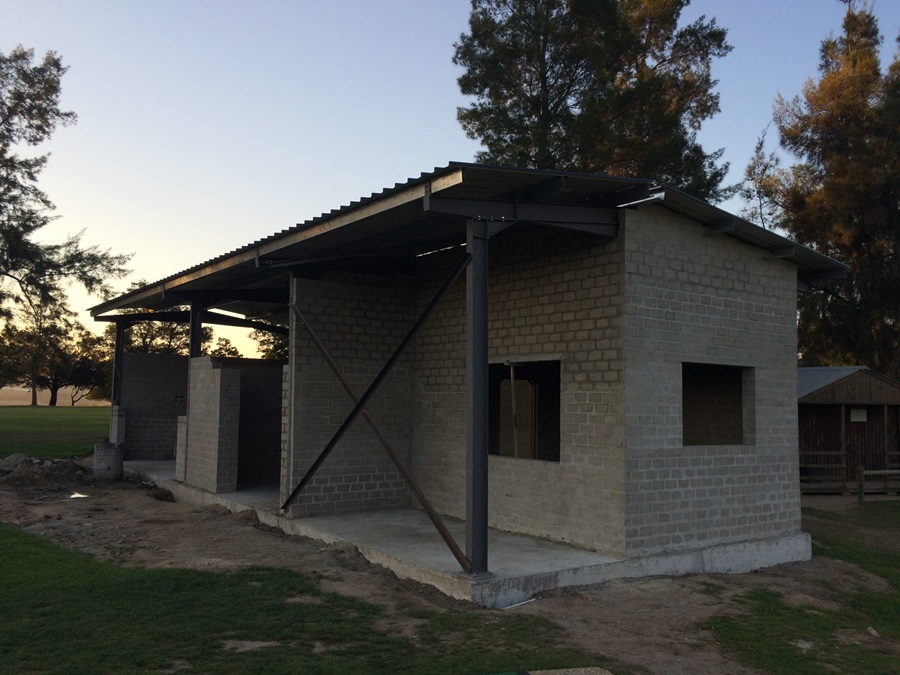 Furthermore, you will notice some welcome new furniture on the range. For your convenience, you will see ball trays next to the mats, into which you can place the balls which can then conveniently be swept closer with an iron, saving you some back trouble!

Also, and importantly, we are slowly introducing state-of-the-art soft "tee-up" mats, so that nobody has to move into a dangerous position on the grass in order to use the driver anymore. This is also killing the precious grass on the practice tee, which could rather be used on grass days. I have included some photos for display - any tee can conveniently be used anywhere on the mat, which is also the closest to the feel of grass of any mat designed of late.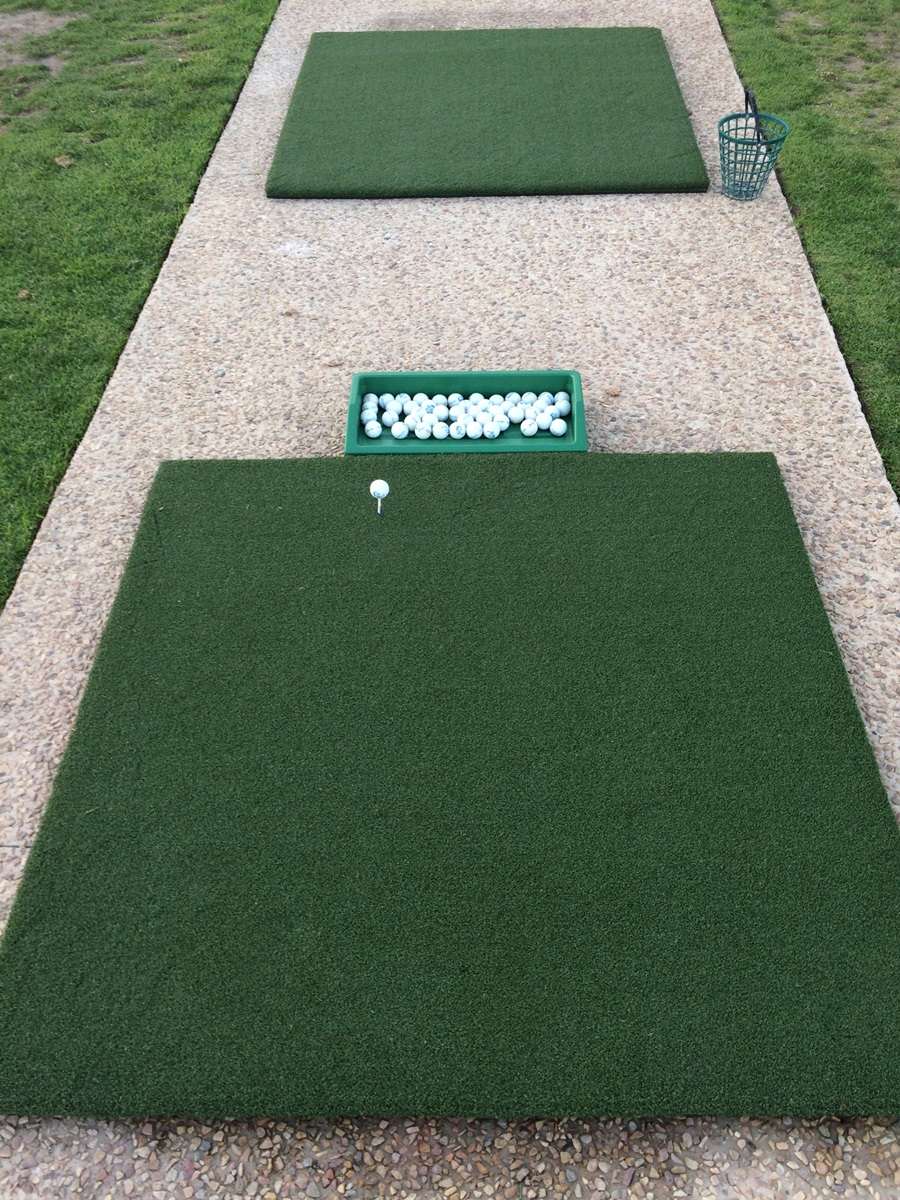 Modern tee-up mat with ball tray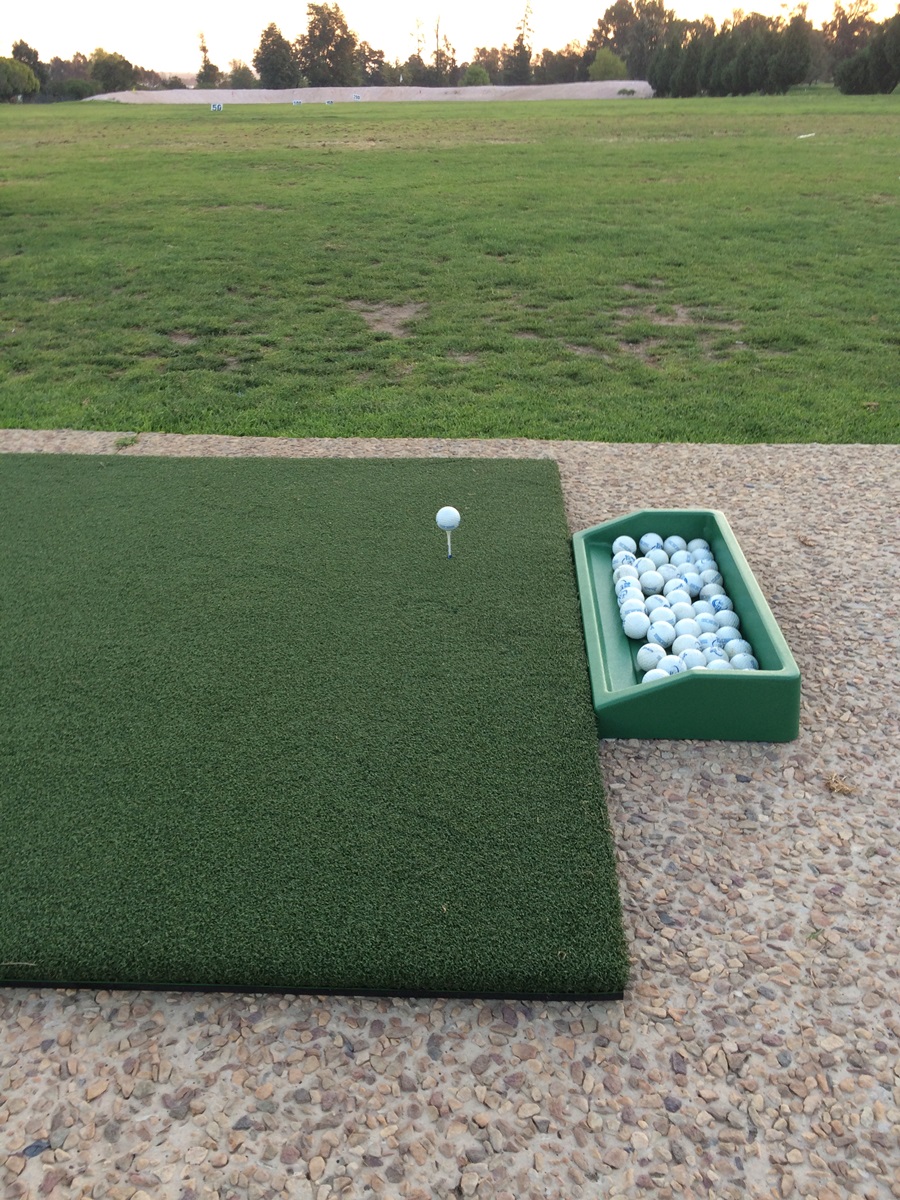 We will be inserting the same material into most of the current mats as well. At that point there will be no excuse not to use the mats anymore - it cannot be that bad to practice off mats - if multiple Sunshine Tour winner Oliver Bekker always practices off them and also played in this year's US Open it can't be that bad!

The official "grass days" though will be Mondays, Wednesdays and Saturdays. Due to the current drought and limited grass surface this is realistic at the moment. When the grass hitting zone reaches the front section, we will be asking the longer hitters to refrain from using driver as it creates a dangerous situation around the 16th tee box.

By now we have also reached the 17h30 mark for last balls handed out. This will be extended as summer advances further. Please note however that there is a half-hour period between "last balls given out" and "last ball hit" in order to allow enough time for the staff to collect the balls before dark. Please respect this and plan your late practice sessions accordingly.

Enjoy your practice and also enjoy the journey into a whole new range experience which will be second-to-none.

Remember also that my "Flightscope Special" still stands - one whole hour with me and the Flightscope I have been writing so much about at the half-hour rate of R390. You won't find a more valuable analysis experience. Simply click here to start talking to me.

Over the next two weeks or so I will be introducing my official coaching team and more.

There will be two Boland Junior events taking place during the upcoming holidays, please find the entry forms (closing date 25/09) by clicking on the links below.

Kleinmond Closed - 2 OCt - Entry form
TWK Closed - 6 Oct - Entry form

Our DOG wins big!
Last but not least, we congratulate our popular and great colleague, our "DOG" Louis Destroo, on his remarkable achievement of becoming only the second PGA Club Professional to have won the national PGA Club Professional of the year award recently. What's more is that he also won the first and coveted PGA Professional of the Year award for 2017 after he was selected out of 5 top national PGA award winners in various categories. Considering the time and effort Louis puts into his work he definitely deserves it. Well done Louis, you also make a winning club like ours win even more!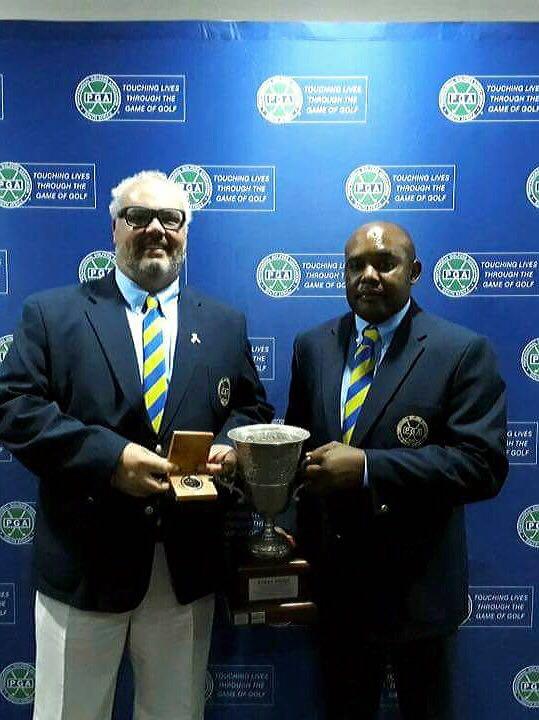 Louis receiving his accolades on Monday evening


See you at the club,
Erich





Pages