You are here
Newsletter
Then and now...
Wednesday, June 27, 2018 - 12:22





Then and now…

It's hard to believe how our beautiful course was struggling towards the end of summer earlier this year. The first two photos were taken 140 days apart. The green, rainy photo was taken on Tuesday last week after some more good rain. The third picture was taken at our worst...





A 140 days ago and a 140 days later…Just plain amazing what water does!

We had 10mm of rain for May 2017, during the same month in 2018 we had 92mm – scary! Some more rain is predicted for later this week, so all and all we are looking good.

Most of you would also have noticed that the dams are filling up nicely on the golf course. I have a good feeling about winter 2018, let's hope my feeling is better than weatherman Pete's predictions.

Water will become the biggest commodity in this country, we need to look after it – let's work
together!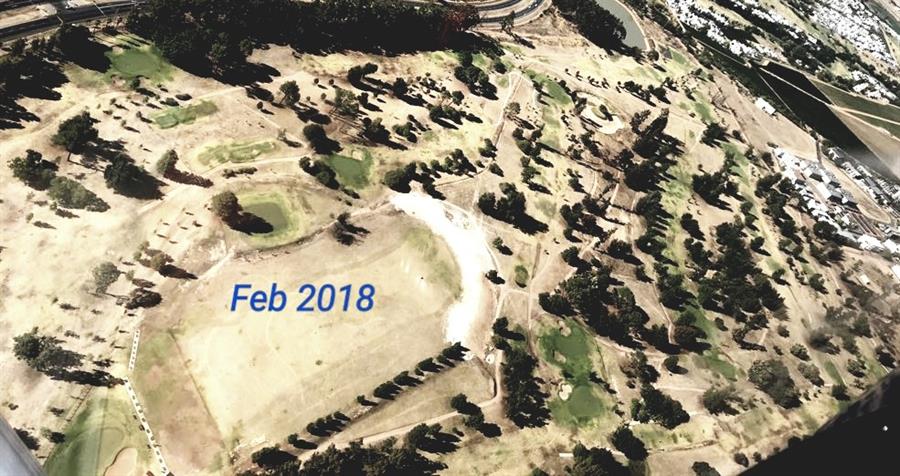 Sunday Mix

We are always up for the challenge and in 2018 we are looking to host a Mix Competition all throughout the year. I can proudly that say we are doing very well so far! We are already in June and had 40 (okay, okay, 39) mix couples participate on Sunday. Not bad for the middle of winter and just before the school holidays!

What made the day even more special was Danie and Louise Brink celebrating their 41st wedding anniversary on the same day. They spoiled all the golfers with some mouth watering cupcakes and can you believe it, to top off the special day, Louise won the raffle! Thanks for the treats and congratulations from all of us at Stellenbosch GC.




The winning 4 ball with our Ladies Captain – Leonie Malherbe, and Danie and Louise - 41 years and going strong!


Winning the day on 89 Stableford points was the 4 ball of Pierre De Villiers, Lente Botha, Eon and Kalla Venter. Well played and see you all at the next one towards the end of July.

Why not come and spoil your family and friends?

What makes a golf club? The friends you play with plays a huge part, the course and its condition, the staff and the atmosphere all contributes to a relaxing and enjoyable visit. But, if your F&B team is so good that families and friends suggest to come and enjoy breakfast, lunch or dinner at the club, you know you are doing something right! You could even just come and spoil yourself with a quick drink after work and enjoy the company of fellow golfers, friends and family.





Seems like it's not only a great golf shot that starts with a smile, but also a great plate of food. Gerhard, to you and your team - well done. I know we have one of the best menus in the country and I can say with ease that we comfortably have the best and widest ranges of wines in the country! Keep the team smiling and members and friends of Stellenbosch GC coming back for more of your wonderful culinary skill.

Have you introduced your kid to the game of a life time?

Make no mistake about it, getting your kids involved in golf will be one of the greatest and most valuable gifts you will ever give them! Here are 10 reasons to get your kid into golf:

1. Anyone Can Play: Golfers come in all shapes and sizes. You don't have to be particularly strong, tall, lean or fast to succeed. Golf champions come in every shape and size imaginable. It's never too early to start, and unlike most other sports you can enjoy golf your entire life!

2. Minimal Risk: Unlike many other popular sports like baseball, soccer and football, the chances of injury, especially serious injury, are almost non-existent; golf is a non-contact sport.

3. Safe and Positive Environment: The golf course is a safe place to spend the day and often facilitates mentoring relationships with successful adults.

4. Lifelong Friendships: You never know who you will meet on a golf course, but it's one of the easiest place in the world to make friends. Success breeds success and people who play golf are by in large more successful than the average bear. Those are the people you want your kids hanging out with! Best of all, golf creates a unique bond so those friendships can be developed all over the world and last a lifetime!

5. Prepare for Business: It's hard to think about it now but kids grow up and the people they meet as children can play a huge part in their success later in life. Golf is a sport that helps prepare kids and teens for careers in the business world. Even at 12 I was learning about real life business every day from all the adults I played with.

6. Time Spent Outdoors: In today's world of video games, smart phones and child obesity, it can be hard to drag your son or daughter off the couch. Golf is the perfect excuse to spend an entire day enjoying nature and presents the opportunity to develop healthy lifelong exercise habits!

7. Important Life Lessons: Golf is a sport that will teach your child life changing traits like integrity, discipline, persistence and respect. As they learn to conduct themselves on the golf course, these lessons will translate directly into everyday life.

8. College Scholarships: Avid golfers have a lot of opportunities when it comes to college funding. The earlier your child starts, the greater his or her chance is of gaining access to scholarship money.

9. Spend time with family: Golf is a game that can be enjoyed by the entire family from young to old. When children are young, they enjoy doing just about anything with you (but it doesn't long last so start now). Golf is an opportunity for quality bonding time and it's one that can last a lifetime.

10. It's FUN: This should probably be at the top of the list, but one of the best reasons to get your son or daughter involved with golf is that they'll have an absolute blast. They'll have the chance to learn new skills both physical and mental, make new friends and discover new opportunities.

There are a million things you can buy or gift your kids in the hope that it helps them learn and grow, only a few make a real impact. Encouraging them to play golf is one!

We had some kids enjoying a Winter Golf Camp over the last couple of days, even my young man enjoyed his time on the golf course. My dad introduced me to golf more than 30 years ago, a hobby I have made my job and still love until this day. The friendships and special times I have experienced on golf courses has been amazing. Why not introduce your youngster to the game of a lifetime? Thanks Dad!





Another great experience on the golf course with special people….

The PGA of SA Coastal Team did it last week at Simola and won the 2018 Webster Cup! Well done to my team, they performed like super stars although on paper we were not the best team playing our inland counterparts, who was by far the better team. Just shows once again that a bit of heart is worth a lot more than a bit of talent!





To everyone going away on holiday, please enjoy and travel safe. I will also be heading to the Kalahari with my family for a couple of days. Nothing quite like going to the farm for some relaxation and recreation this time of the year.

All the best and I will see you all again just before the Open Championship!

Regards,
Louis



Pages