You are here
Newsletter
Golf greetings
Thursday, May 2, 2019 - 09:03






Golf greetings,

I hope you all had a wonderful Easter, with some quality family time and plenty of golf time. There are so many public holidays this time of the year, golf is almost starting to feel like work, luckily, I like "work"!

No butts about it...

Each time I sit down to write my Dog's Tale, many thoughts cross my mind, as to with what I will start. We have so many beautiful wonderful activities taking place at the club each week that I just love to share with all of you. Sadly, this week I'm kicking off on a more negative note than usual...It pertains to my friends the "smokers" – WHAT DO YOU DO WITH YOUR BUTTS? Being a smoker myself I do feel quite comfortable asking all of my fellow smokers to stop throwing your butts on the course. Yes, we have all been guilty even if you are sitting there right now denying it! I would like to appeal to all of you, and I will be setting the example, that we do not leave one butt behind. Let's be conscious and courteous to those around us that don't enjoy the pleasure, but loves to enjoy the pleasure and beauty of the golf course.

Not harping further on the point as there are to many good stories to share – I will finish off on the point that our course has moved to a next level and we all need to help to keep it in its beautiful condition. I will be writing once a month about something we can all do to keep the course looking beautiful. Let's turn all these negatives into positives!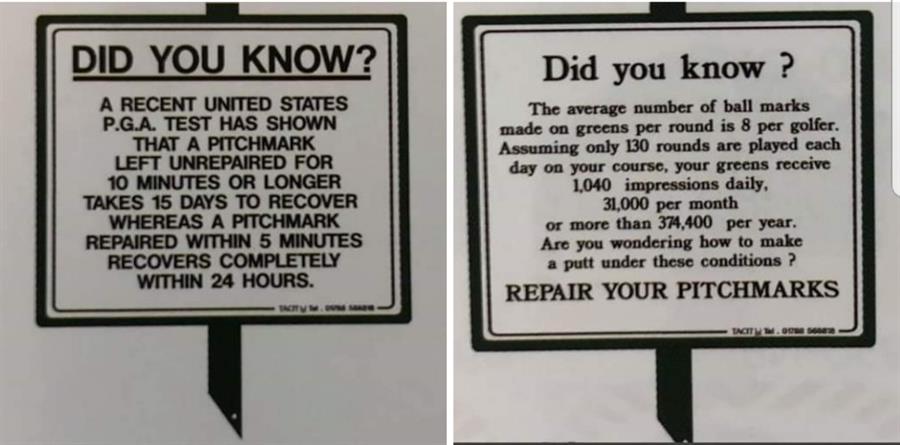 Ever wondered why the front of the 1st & 10th green
has so many pitch marks?


Go Ladies!

The ladies continued flying the Stellenbosch flag high after the Masters with a momentous win over Paarl GC in their annual Ryder Cup match, last week Tuesday! The three rounds of the 9-holes tournament, started with Foursomes, followed by Betterball and ending with Single matches, just like the Ryder Cup. There where not many smiles after the morning foursomes round (while enjoying a lovely breakfast), with Paarl taking the early lead. Breakfast was just what the Stellenbosch ladies needed and from there they never looked back, comfortably winning in the end. Proud of you ladies!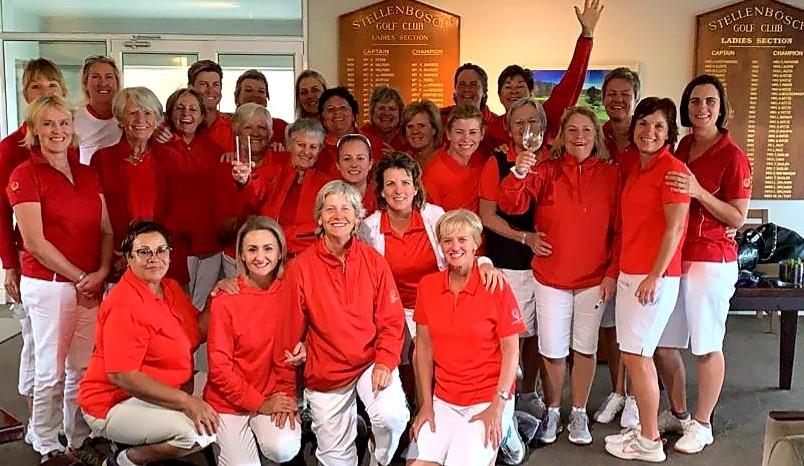 Stellenbosch winning ladies' team – go Girls!


The big cat is back!

I think the clip says it all..The most influential man in sport – you might not like him, but his peers love him for what he has done for the game of golf. Golf's administrators loved his comeback, television stations loved his comeback and in the end who does not love a comeback story? Biggest comeback in the 21st century!







Jaco and his Titleist bag

The Masters is over, Justin finished in 12th position, guaranteeing his return in 2020! The winners of all the competitions we ran during the event was Jaco Spies, winning the Titleist golf bag – Tiger was his player in the 1 to 87 draw. Ulrika Stolte and Gerhard Oosthuizen also made sure that they will be walking away with something with both picking Tiger as their winner and sharing the pot of just over R4000. Mooi julle! Keep your eyes open for the PGA Championships, when we will be running our next pick the winner competition.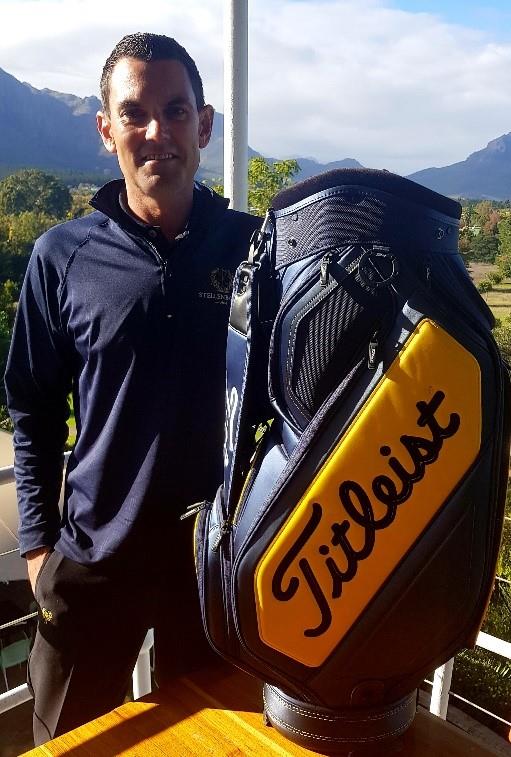 The Group One Nissan / Renault Challenge is heating up!

Wednesday last week saw the second round of the Group One Nissan / Renault day being played in great spirit and weather as always. Gerhard Beukes and Riaan Haneke scored 50 stableford points to walk away as champions for the day – great golf, Gentlemen. The 3rd round will be played on the 15th of May, have you reserved your spot? The standings after two rounds are as follows, with lots that can still happen 'til December!

Here are the current standings.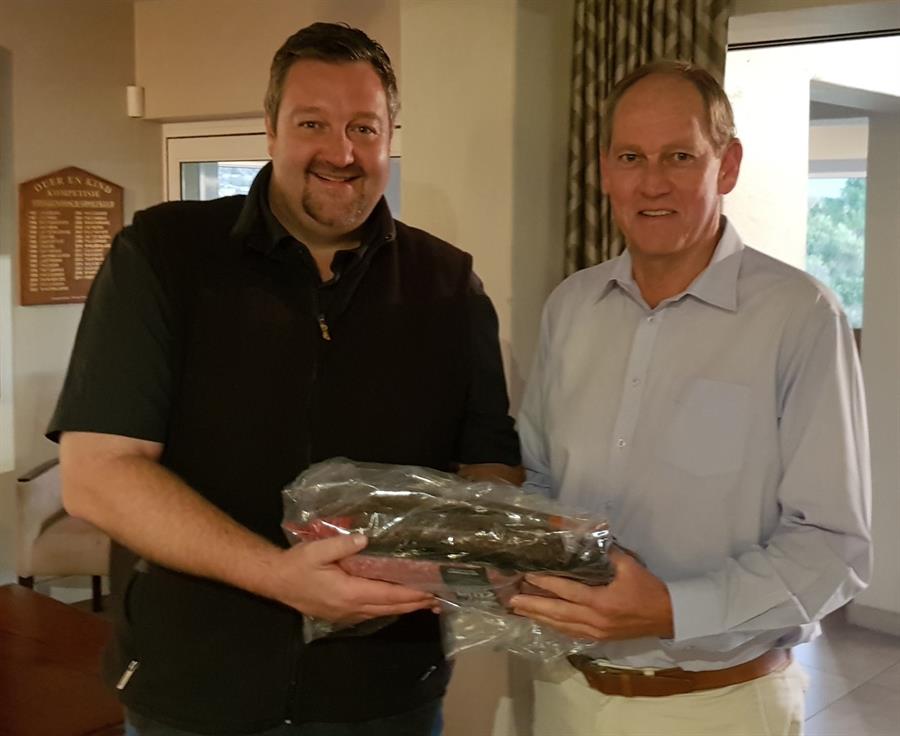 Gerhard Beukes receiving his prize from Group One Nissan
representative Neels








Stellenbosch Ladies on Tour

I just had to add these lovely two photos of a group of Stellenbosch ladies touring to Sun City and Pecanwood earlier this month! Gone are the days that golf tours are only for the boys...It was smiles all around as they spent 4 days to remember on three of the best golf course in South Africa. This country has so many great destinations to visit! Have you booked your next golf tour?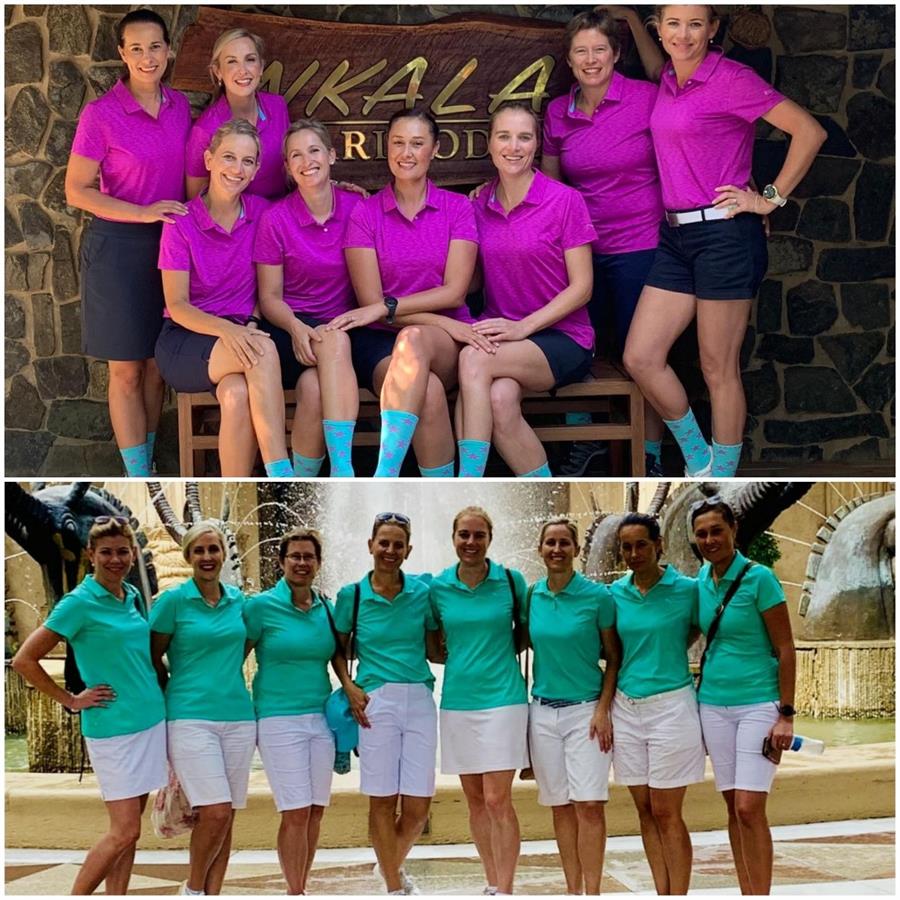 Pretty in in pink and green – love it!


Happy birthday!

Happy birthday to you, happy birthday to you, happy birthday Leonie, happy birthday to you!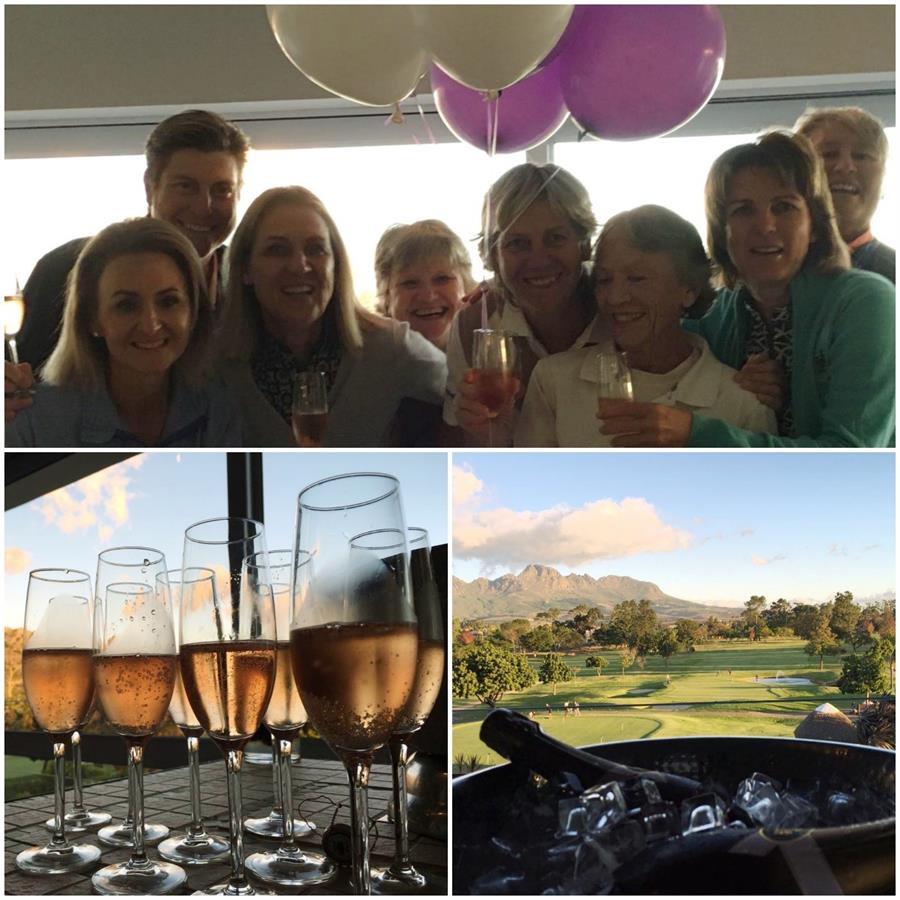 Leonie enjoying her special day at Stellenbosch GC


Yes, it was our ladies captain's birthday and not just any birthday, her very special 60th birthday on Monday (last week). And where better to celebrate the day than with her friends on the golf course? It's my pleasure on behalf of Stellenbosch GC to wish you a all the best and may the rest of the year be as special as the day was.

April is the month of birthday celebrations as our very own club captain also celebrated his special day on the 18th so here goes – happy birthday Peter from the entire Stellenbosch GC! Hip Hip Hooray!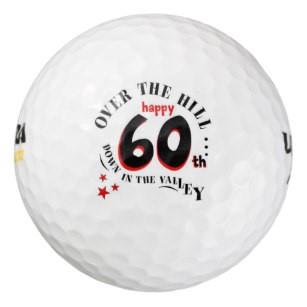 Charlene aces the 15th hole!

The celebrations just does not stop! Charlene Theunissen hit the perfect 5 wood on the 15th hole for her first hole-in-one making 5 points on the hole! This all happened in the monthly Mix Competition sponsored by Global Accommodation. Winning the April Mix, with its Augusta theme was the 4-ball of Freda Kieviet, Coenie Bezuidenhout, Diana van Graan and Reenen Kok with 95 points. For May we are heading to the beautiful Italy and I love that place!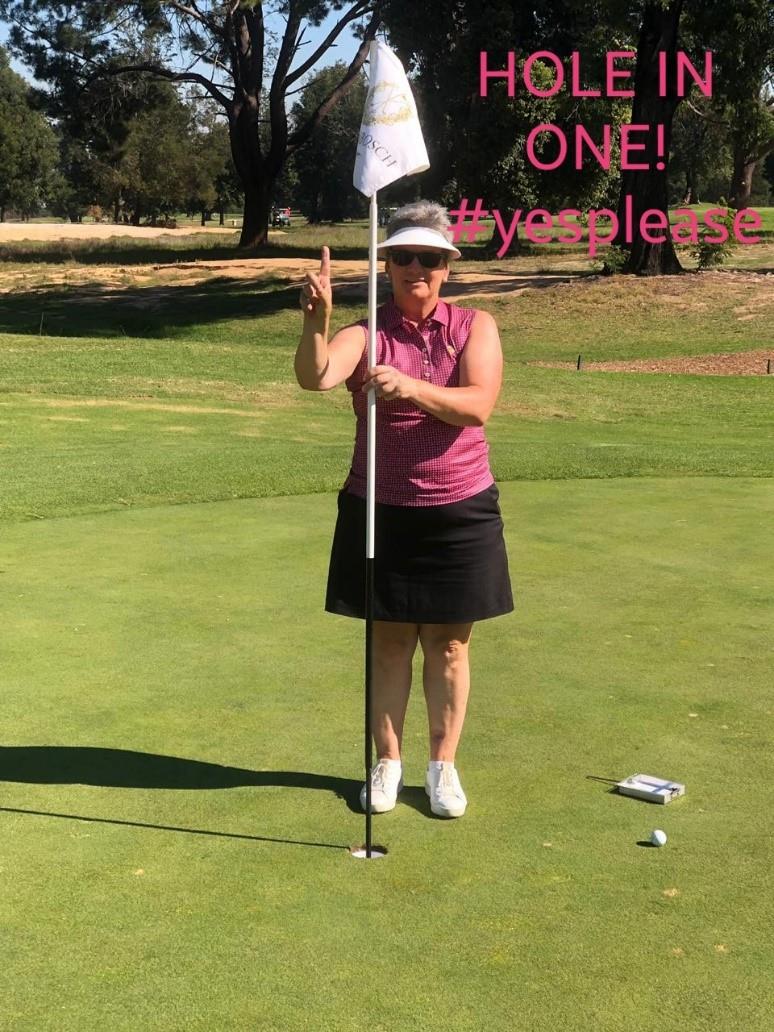 The perfect golf shot – super shot Charlene!


We're looking for our putting champion!

Saturday and Sunday, we will be hosting the contenders in the 2019 Stellenbosch Club Championships proudly presented by Argent & Protea Hotel Stellenbosch. It's going to be another epic Club Championships, starting with the Junior and Putting Championships on Friday already. Do not forget to enter for the Putting Championships and if you are in the area, come and support the golfers late Sunday morning as we welcome them back on the 18th green! Robbie Oosthuizen is in the field and will be defending his title. All the best to all the golfers participating this coming weekend.








Hollowtining reciprocity - 06 May to 10 May 2019:

Paarl GC – R200
De Zalze GC – R245
Devonvale GC – R270

Please note the pizza oven will also be closed for renovations over this period.

Celebrating the special women in our lives!

Ending off on a very positive and special note – on 12 May we are celebrating Mother's Day – come and spoil the special ladies in your life at the club for lunch. Booking is essential, see the menu by clicking here, as always you should not be missing out. Limited space!

See you all tomorrow for the Friendship Day!

Have a great one,
Louis





Pages