You are here
Newsletter
Hello!
Monday, August 20, 2018 - 22:30





Buongiorno!

Let's kick off this week's Dog's Tale on a very positive note.

In April 2012 Stellenbosch GC introduced, or shall I say opened, our pizza oven. To date we have sold 65 200 pizzas. Wow, that means we selled on average 30 pizzas every day for the last 6 years. Well done to Gerhard and staff, these are by far the best tasting pizzas in town! No wonder I love Italy so much, they (Italy) now even have their first Major winner in golf.

This week's interview by Riaan Gerber was with our Executive Chef, Gerhard van der Merwe, how fitting?

PGA Inter Club

On Tuesday, Stellenbosch GC welcomed 19 golf clubs from all over the Western Cape to participate in the annual PGA Inter Club. Stellenbosch GC was the previous winner and so the proud host of this wonderful event in 2018. What a special event, where each club is represented by its President/Chairman, Club Captain, General Manager and PGA Professional. My team tried very hard to defend our title, but sadly we fell three points short of the overall winners, Strand GC. Congratulations to them! We have received numerous compliments and positive feedback regarding the golf course, club house and hospitality, and it makes one proud to be part of this wonderful golf club.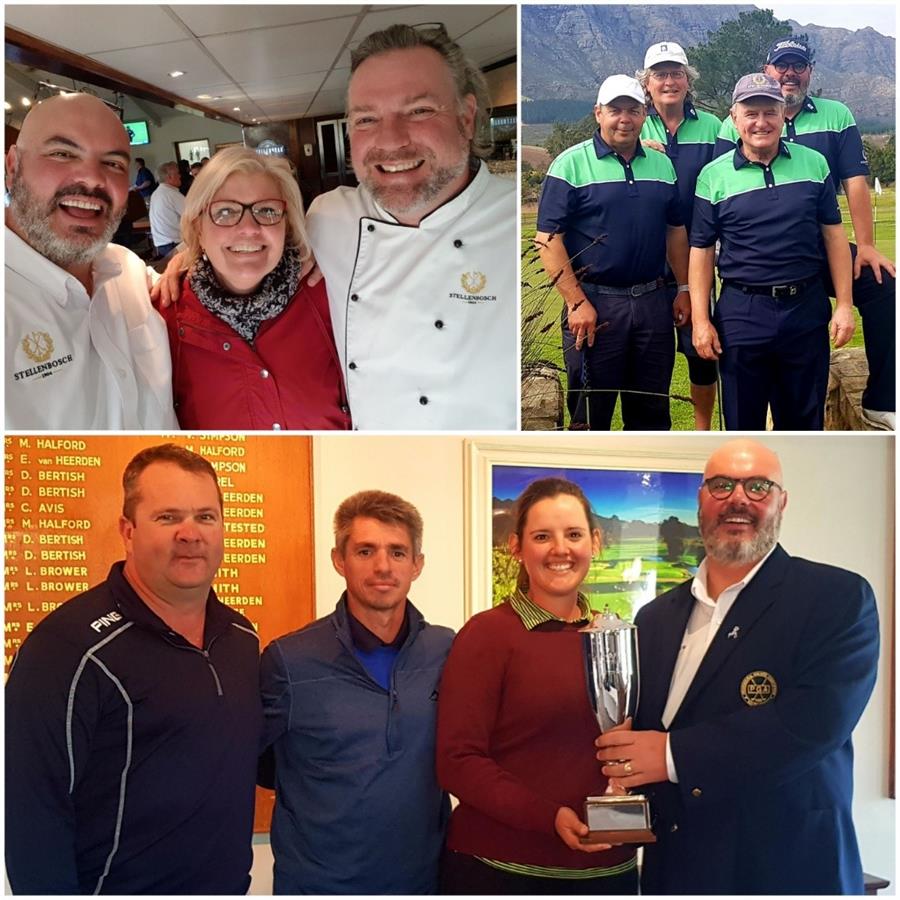 Western Cape PGA Inter Club 2018 at Stellenbosch GC


ABC Security Golf Day

Thank you to Stephen from ABC Security for another super day for the members at Stellenbosch GC! It was all smiles for the winning team scoring 90 points and winning on a count out. How do you win the count out? Well it's easy, you get Johan van Rooyen to hit a hole-in-one on the 7th hole! Great shot Johan, always special and the round of drinks afterwards was much appreciated.

Playing with our club's President on Tuesday, I was quite surprised to hear that after all his years of playing golf, this fluke has not crossed his golfing path. All I can say is patience, I also waited just over 30 years before I had my first one.

We are all looking forward to the final ABC Security day later in the year – appreciate it Stephen!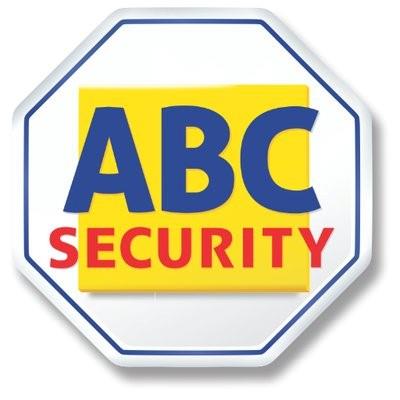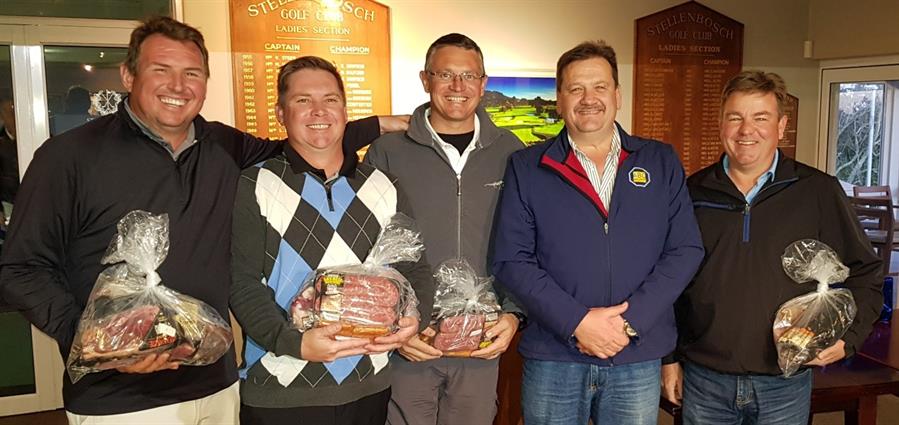 Winning Team – Johan Hugo, Johan van Rooyen, Bertus Kriel, Stephen Nelson (sponsor) and Nieuwoudt Heerschap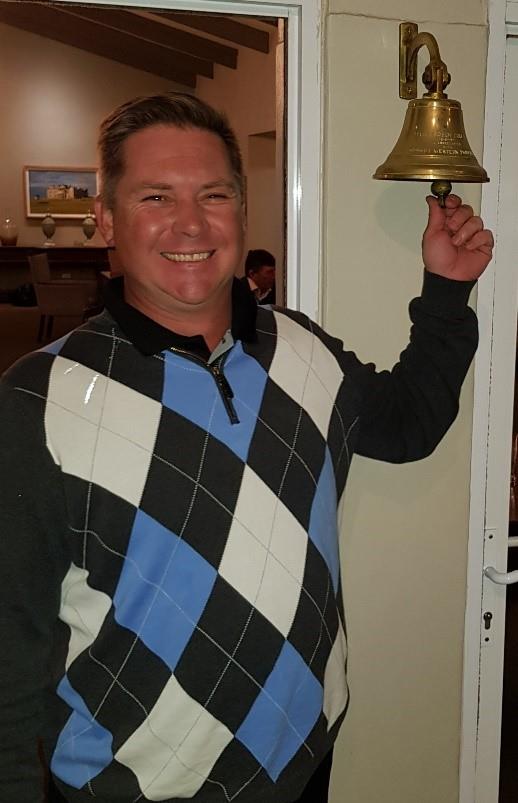 Johan all smiles after his hole-in-one


Harcourts Callenge

Wednesday will be the second round of the Harcourts Challenge, with another different format, synonymous like Harcourts Stellenbosch. Still in teams of two (hopefully with your same partner as the first round, to be eligible for the overall prize) it will be a 4 BBB Stableford – Preferred Drive. The final round will be played in September when the Harcourts Champions for 2018 will also be crowned. Below are the top 10 teams after round one. The format for that day, if you can't recall, was 6 holes of 4BBB Stableford, 6 holes of Combined Stableford and 6 holes of Multiplier Stableford. Each team had to choose the format once they have completed the hole, but had to use each format 6 times. For some the format worked out well! Let's support Harcourts Stellenbosch like they support Stellenbosch GC.


Position Players/Partners Total after round 1
1
2
3
4
5
6
7
8
9
10 J. Bredell & T. de Abrue
C. Laubscher & J. Huskinsson
L. de Wit & F. Husfeld
N. Heerschamp & D. Brink
J. Laubscher & L. Destroo
E.J. Langer & H. Lubbe
B. Muller & T. Gordon
E. Kliem & B. Grib
R. Bosch & N. van Staden
S.J van Heyningen & WP. Botha 86
82
81
79
79
78
78
77
75
75









This bag from Titleist could be yours...

We are running a great little promotion to win this beauty of a Titleist Golf Bag. It's easy to win, all you have to do is buy a "shot" of Oude Molen 100 Year Reserve Brandy to get your name into the draw. Who doesn't like a little brandy every now and then?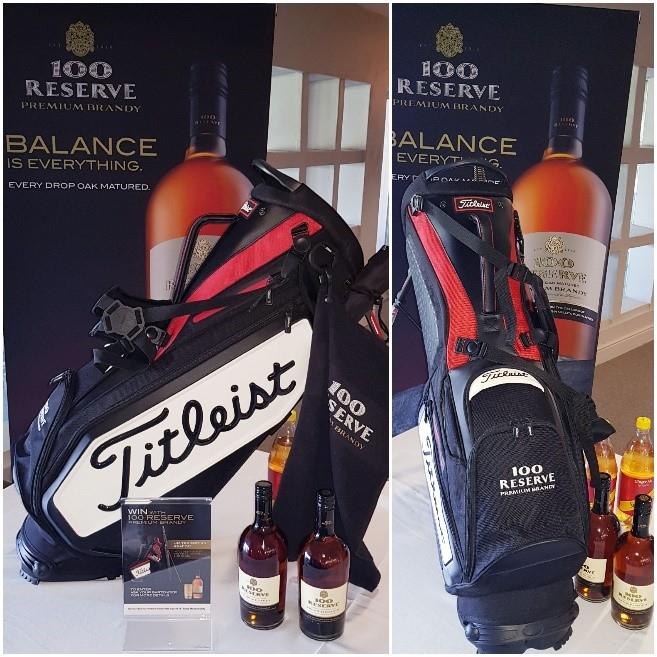 Got to be in it to win it!


Here's a sneak peak into the new slope system, being introduced on the 3rd of September 2018. In next week's Dog's Tale I will add the charts that will show the conversion from a players Handicap Index to his/her Course Handicap at Stellenbosch GC. These charts will be available at all golf courses. Players playing at Stellenbosch GC can also indicate at registration in The Pro Shop from what tee they will be playing on the day and the computer will then also indicate the players course handicap for the day.


Stellenbosch Current Men (72) Women (72)
Yellow
White
Blue
Red 73
71
69/NA
66/71 73,7/136
72,2/129
69,4/124
67,4/120 -
-
75.4/131
72.6/125


From time to time we will host competitions with nominated tees, from were all players must then play off for the day. For the rest, players can choose before each round from which tee they prefer to play off for the day. Men now have four golf courses to choose from – Yellow – White – Blue and Red course and ladies two courses – Blue and Red. Your choice here will determine your Course Handicap for the day. All players Handicap Index will be recalculated on the eve of 2 September 2018.

The Maroon Team from Stellenbosch (Paul Roos Gymnasium) did not have a very successful visit to Bloemfontein over the weekend. Although the 1st team almost won, that's like almost making that three-footer, losing by 2 points in the end. It wasn't to be for the rugby sides as all rugby teams lost – oops! On a more positive note the schools golf team and the old boys golf side won their golf matches against the gentlemen from Bloem…Golf is still booming in Stellenbosch!

Ciao Ciao,
Louis


Pages