You are here
Newsletter
News
Thursday, August 8, 2019 - 17:11






Misty morning everyone,

Not even the mist could keep 90 golfers off the course on Saturday (27 July) in the morning…I must admit it wasn't easy, even after so many years of playing this beautiful golf course, I sometimes wondered if the aim was really in the right direction? I added a video of me teeing off on the 12th hole, it was down the middle and in the end, I lipped out for birdie. Never saw the rest of the round! It was a blinder as was for most of you…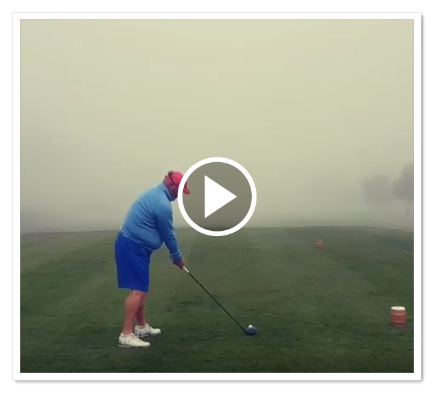 A trip to Switzerland...

Sometime during Sunday (28 July), the mist lifted, and our Monthly Mix competition could enjoy a summer's day in Switzerland. Although most players were dressed in winter gear (in red and white) it was a typical summer's day in Switzerland, we are just used to must better weather in our summer!

We must thank our two wonderful sponsors, Julie Redman from Thorburn and Pierre De Villiers from Alert Security, for spoiling the members and guests once again with a wonderful day. Champions in Switzerland for the month of July were Danie and Louise Brink, joined by Kalla and Eon Venter, scoring 88 stableford points. Best dressed was Brian Stolk, Niki De Jager, Carol and James van Niekerk (aka Roger Federer). My tongue tied so badly as I called them out. I got names right, then wrong, then right again with these Federer look alikes. Okay, okay a slightly older version of the super star...Looking forward to the next one as we peg it up in Russia. That means vodka time!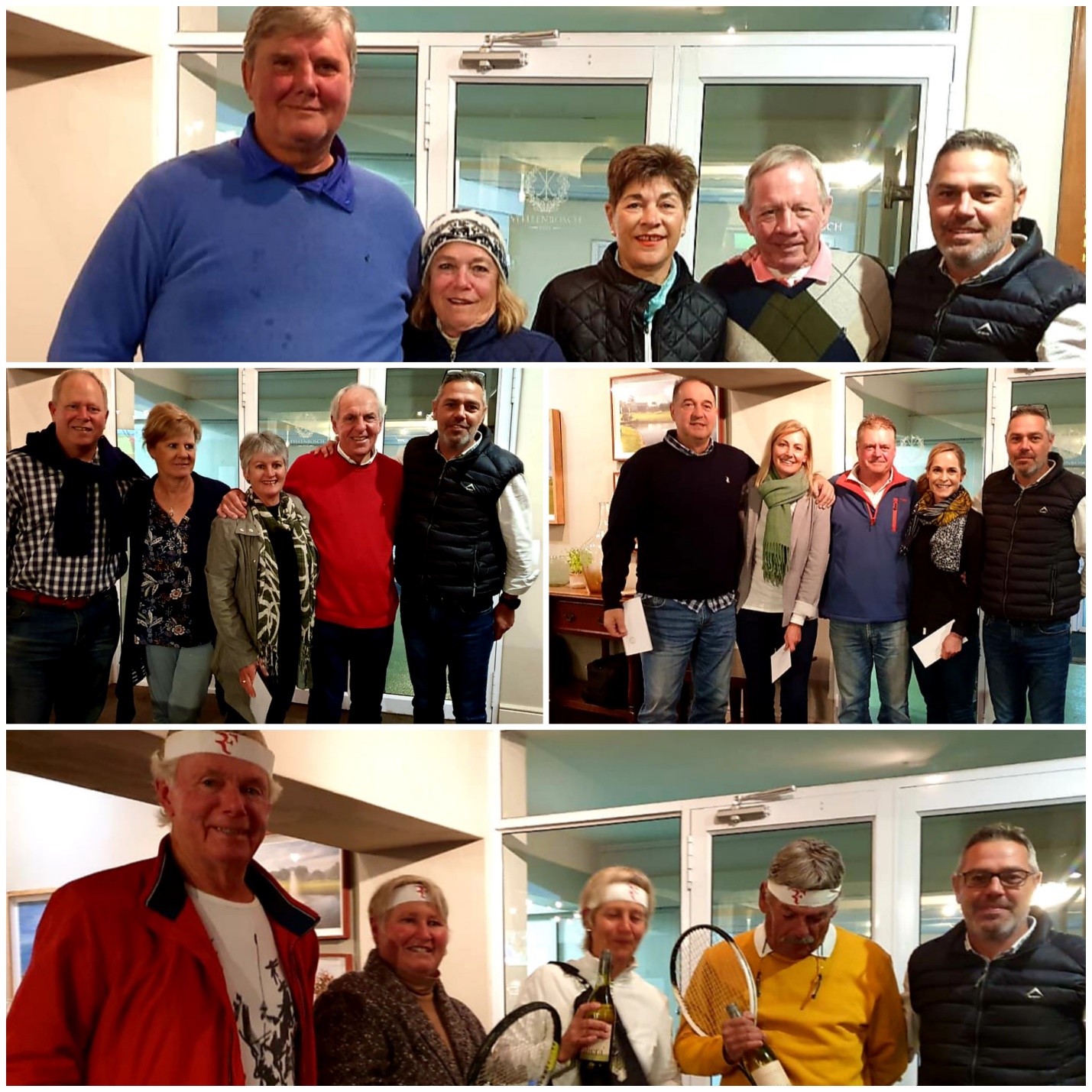 Smiles and confusion on the faces of the "best" dressed Federer ball









Beyerskloof Day

Always a great day! We enjoyed another Beyerskloof day last Wednesday. Dirk Blom made a one on the 9th hole…this sparked an idea from the Beyerskloof team and from now on every player achieving that once-in-a-lifetime shot, a hole-in-one, on a Wednesday & Saturday will receive a 5 litre Beyerskloof signed by Beyers and Anri – is that special or what? Winning the day was Gerrie Jonas, Wessel Kotze, Flip Liebenberg and Johan Hugo with 92 stableford points. Best part of a Beyerskloof day? Almost everyone is a winner! With so many lucky draws, very few walk away empty handed. Big thank you to the team from Beyerskloof who forms such a big part of Stellenbosch GC family.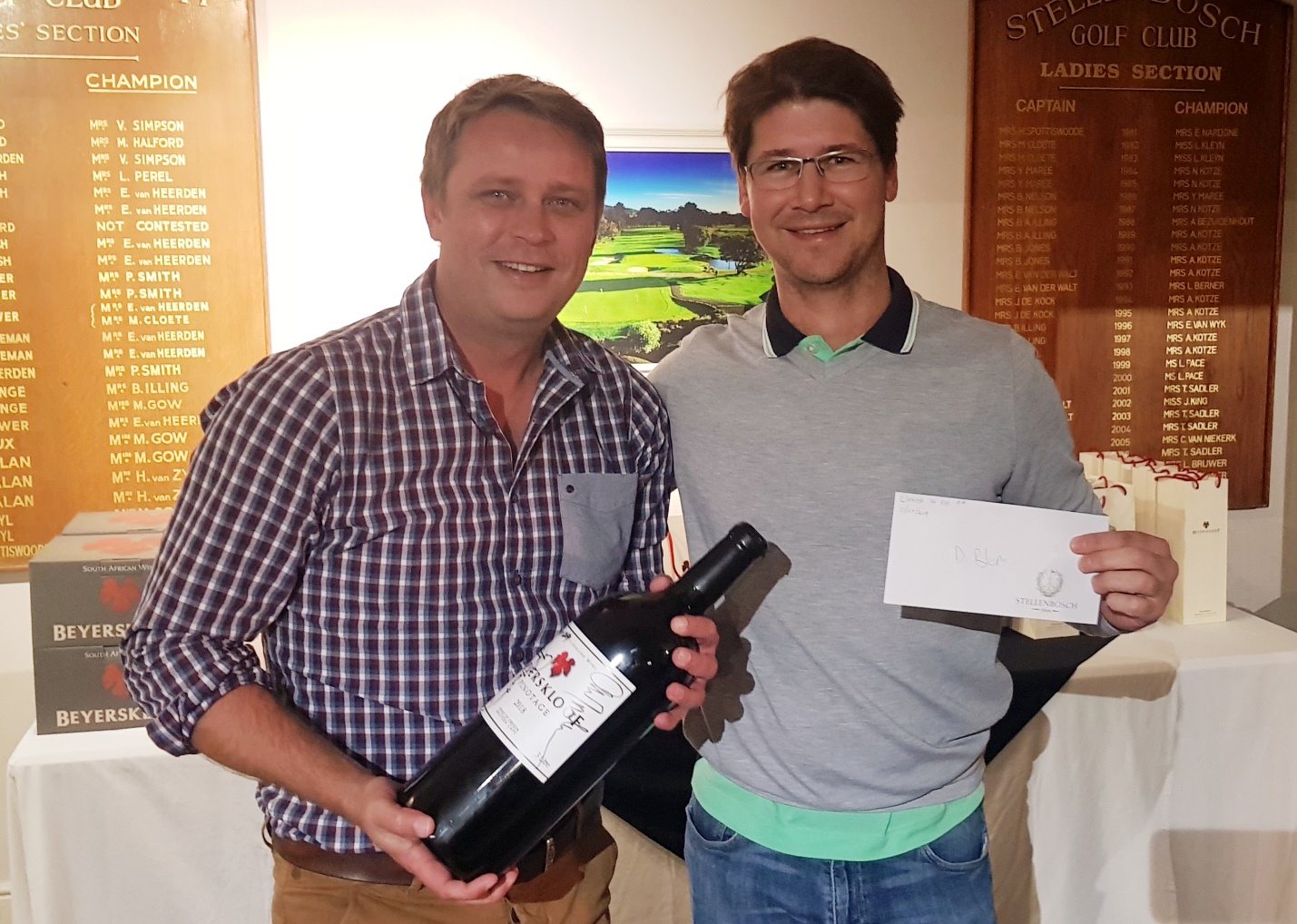 Dirk, our hole-in-one man, with Anri Truter and a BIG bottle of Beyerskloof wine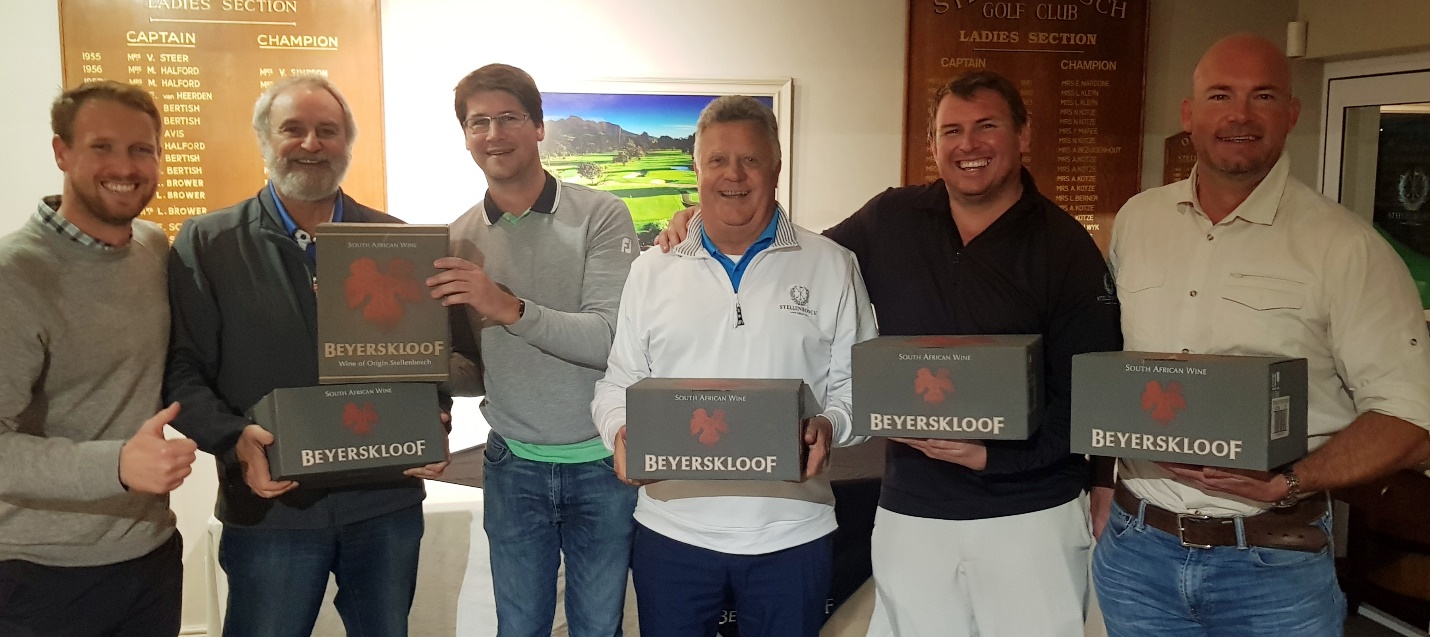 The winning 4 ball with Christiaan and Anri from Beyerskloof


How do you celebrate your 70th birthday? Easy, you win the Beyerskloof day! Happy Birthday Gerrie Jonas from all of us, by the smiles and happy faces in the background we know you all enjoyed the day with us and your friends at your favourite place, the golf course!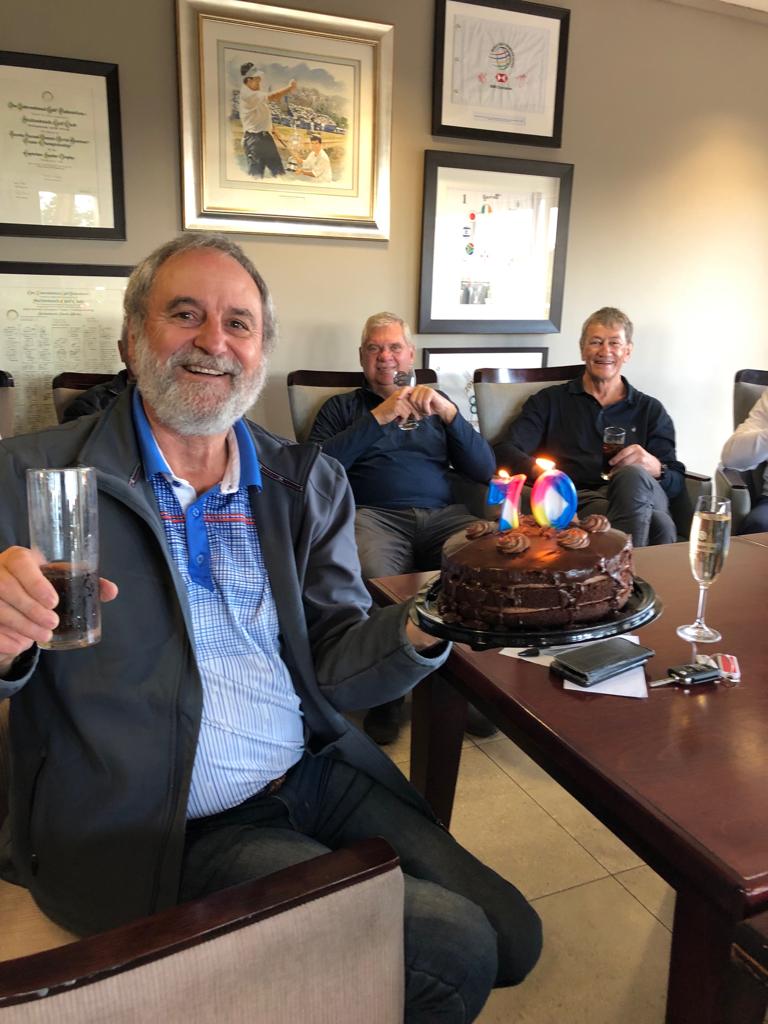 Gerrie celebrating 70!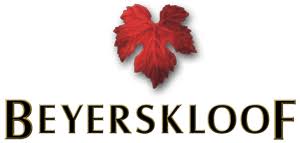 To finish off...

Our financial year came to an end on Wednesday (31 July), with no less than 51 267 - 18 holes rounds being played in 50 weeks. I would like to thank all the members for their support and contribution during the last 12 months. Chris will be going into a little more detail in his letter to the Members with some very interesting figures from our last financial year…

It sure seems like we have turned the corner with the weather and water. We enjoyed a cold and wet July and start to August. Some interesting stats regarding our rainfall during the last 3 years for the month of July:

2017 : 52 mm rain on 4 days
2018 : 59 mm rain on 5 days
2019 : 138 mm rain on 8 days

So get the message out there – we are going to have a great green golf course this summer and I can't wait for all my international friends to join us for a round of golf and a glass of wine. South Africa is back and ready! Welcome to the winelands...

I had the pleasure of playing 18 holes with Justin and his dad on Sunday. Justin was in SA for a surprise visit and it was great to catch up with him. We'll only see him in December again. He is spending his next 3 weeks in the US on the Korn Ferry Tour in a last try to secure his PGA Tour card. Great to see you Justin and best of luck for the rest of the year.

Congratulations to the following three pairs going through to the Regional Final of the Cape of Good Hope Series after Saturday's (3 August) qualifying round at the club.

1. John Everitt & Lourens Botes 46
2. Francois De Vries & Morne De Vries 44
3. Ed Du Plessis & Francois Pieterse 44

Sadly yesterday's Group One Nissan Challange had to be cancelled due to the inclement weather...

There are 20 weeks and 6 days left till the end of 2019 (31 December 2019), enjoy them!

Let the long weekend begin!
Louis

Pages